We're happy you're here

Welcome to Philadelphia

There's plenty to do, see, and explore

Interactive Game Experience â€" IGX Adrenaline Tour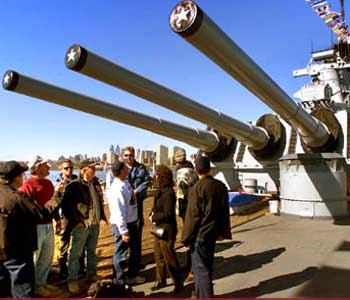 The Battleship New Jersey, America's most decorated battleship, is preparing for a new battle on Saturday, May 27th and Sunday, May 28th. For the first time ever, a video game expo will take place on a former United States military vessel — a battle that is sure to be fun for all guests! The IGX Adrenaline Tour, in association with the National Guard, will feature over 20 video and PC game environments and will allow guests to play the latest games from Playstation2, Nintendo Game Cube and Microsoft Xbox.
Some of the games that guests touring the Battleship can enjoy include "Guitar Hero," the Sony eye toy and the Hot seat auto simulator, plus the Xbox 360. Further, the Battleship, IGX and Wired 96.5 radio have teamed up to present the "Battle on the Battleship" competition where gamers can compete for prizes – including $500 each day – on the games "Black" and "SSX3.
The National Guard will also provide prizes, such as footballs and basketballs, as well as host several activities on the Battleship's Pier. The National Guard van, which will feature music and interactive programs, will be available for guests to experience on the Pier.
VISITOR GUIDE
Interactive Game Experience – IGX Adrenaline Tour
1 Clinton St., Camden, NJ 08103
(866) 877-6262

---