We're happy you're here

Welcome to Philadelphia

There's plenty to do, see, and explore

Independence Seaport Museum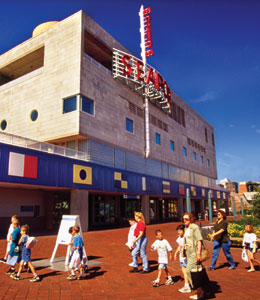 With historic vessels to board, a ship's hull to rivet, and cargo to unload with miniature cranes, Philadelphia's maritime museum conveys what the Delaware and Schuylkill Rivers have meant to the city over the years. Along with displays that chronicle the city's contributions to naval and commercial maritime history, there are exhibits about what makes boats float, the China trade and local small craft. Berthed right outside are the OLYMPIA, the nation's oldest floating steel warship (1892), most famous for being Admiral Dewey's flagship during his Spanish-American war victory in Manila Bay, and the BECUNA, a classic World War II submarine that fought battles in the South Pacific. Workshop on the Water is a working boat shop where you can watch artisans building and restoring traditional wooden boats. History The museum, dedicated to exploring the maritime history of the Delaware River, the Delaware Bay and tributaries, opened on Philadelphia's waterfront in July 1995 after more than 35 years of rich history as the Philadelphia Maritime Museum. In 1996, the museum assumed responsibility for the OLYMPIA and BECUNA, which are both designated as National Historic Landmarks.
MILITARY MUSEUMS
Independence Seaport Museum
211 S. Columbus Boulevard Philadelphia, PA 19106
(215) 413-8655

Upcoming events

Thursday, October 15, 2015
Learn about the history of Philadelphia's Dock Street while enjoying 3 different beer selections from Dock Street Brewing Company.
---