Crow's Nest Preserve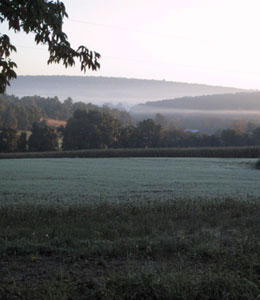 French Creek, designated by the Commonwealth as an "Exceptional Quality" stream, runs through Crow's Nest and the preserve's streamside forest helps protect the creek's water quality. Most of the woods in this area were cut in the 1800s to make charcoal to fuel iron-making furnaces. Over the past few decades, the forests have regenerated and today represent diverse habitats, from dry, rocky, oak-dominated uplands to swampy floodplain forests.
Located next to both French Creek State Park and the Hopewell Furnace National Historic Site, the preserve provides environmental education and research opportunities.
The first parcels of the preserve were donated to Natural Lands Trust in 1991. The trust manages the land for native habitat as well as for agricultural and passive public use. The visitor center is located in a restored barn, and farmhouses on the property are being restored for staff housing and program uses.
OUTDOOR EVENTS AND FESTIVALS
Crow's Nest Preserve
201 Piersol Rd., Elverson, PA 19520
(610) 286-7955

---