We're happy you're here

Welcome to Philadelphia

There's plenty to do, see, and explore

Bushfire Theatre of Performing Arts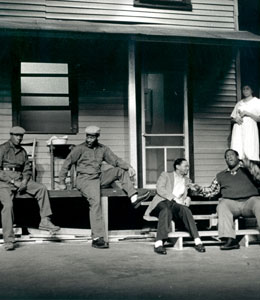 The Experience
Bushfire Theatre produces, in a wide range of forms, theater events "that depict the African-American experience." It's repertory has included dramas, comedies and musicals.
The company recently presented the first production of Phantom of the 87th Street Playground, a children's musical fantasy based on life in New York City and written by Clyde Santana and Gail Davis. Two original comedies were also recently staged: Looking for Hezekiah and Dinner at Aunt Lucy's, by P. J. Gibson. Many classic plays, such as Raisin in the Sun, have been performed during Bushfire's 25-year history.
Bushfire was founded in 1977 by Al Simpkins, who had raised funds to remodel the Locust, a defunct old vaudeville house, into a modern facility. It is a theater with close ties to its community, sponsoring a variety of activities including acting workshops and puppet shows. Over the years, the company has developed nearby buildings that house workshops, a café, the SanKofa Puppet Theatre, Children's Literary Club, reception spaces and offices.
THEATER
Bushfire Theatre of Performing Arts
224 S. 52nd Street Philadelphia, PA 19139
(215) 747-9230

---