We're happy you're here

Welcome to Philadelphia

There's plenty to do, see, and explore

Brandywine Conservancy's Wildflower and Native Plant Garden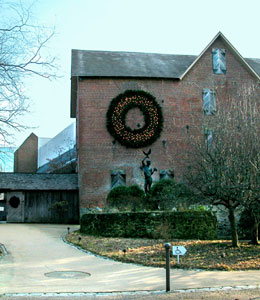 The Brandywine Conservancy's Wildflower and Native Plant Gardens at the Brandywine River Museum are a living representation of the Conservancy's mission to preserve, protect and share American artistic, natural and historical resources, principally of the Brandywine region. Adults and children both can explore the possiblities of art and illustration through a series of tours and workshops.
Designed by horticulturist FM Mooberry and begun in 1974, the gardens feature indigenous and some naturalized plants of the greater Brandywine region displayed in natural settings. In 1979, Lady Bird Johnson dedicated the gardens to Ford B. Draper and Henry A. Thouron, two individuals who played important roles in the establishment of the Brandywine Conservancy. Today, the gardens are maintained in memory of Mary Sharp.
A variety of programs for families are offered throughout the year. Events include the Free Sunday Mornings in March, June and September, and weekend and summer workshops.
ARBORETUMS
Brandywine Conservancy's Wildflower and Native Plant Garden
2 Creek Road, Chadds Ford, PA 19317
(610) 388-2700

---