We're happy you're here

Welcome to Philadelphia

There's plenty to do, see, and explore

Battleship New Jersey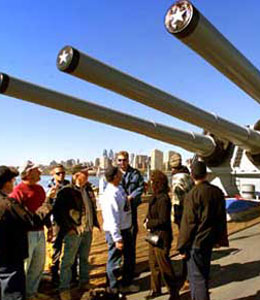 The Experience
At 887 feet of armor-plated steel, the 45,000 ton Battleship New Jersey dominates not only the New Jersey waterfront, but also American naval history. Winding through tight, narrow companionways, visitors see the communication center, officers' and enlisted men's mess halls and sleeping quarters, which range from small private rooms for senior officers to even smaller cots stacked atop each other for enlisted men.
The dimly lighted Combat Engagement Center displays radar and sonar tracking stations, and videos show the launch of Tomahawk missiles. A highlight of the tour is the turret where 2,700-pound shells were loaded and fired. Best of all, some of the tour guides served active duty on the "Big J" and share their personal experiences.
Through World War II, the Korean War, Vietnam and the Gulf War, the Iowa-class Battleship New Jersey earned an unprecedented 19 Battle and Campaign Stars for outstanding service. As technology changed, the ship's equipment changed, too. Today the battleship is preserved how it was when it was decommissioned for the fourth and final time in 1991. Visitors can travel back to an earlier time in the battleship's history on the 4D flight simulator's "Seahawk" program, which re-creates a WWII era dogfight over Iwo Jima.
MILITARY HEROES AND WAR MEMORIALS
Battleship New Jersey
1 Clinton St., Camden, NJ 08103
(866) 877-6262

---