We're happy you're here

Welcome to Philadelphia

There's plenty to do, see, and explore

Adventure Aquarium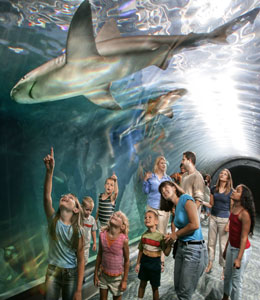 The Experience
There is nearly 200,000 square feet of marine and wild life at this world-class aquarium, which opened in 2005 and offers equal measures of entertainment and education. At the West African River Experience, one of the largest and most popular attractions, you can immerse yourself in the mayhem of the Nile River Valley — walk within chomping distance of crocodiles, marvel at 20 species of African birds in a free-flight aviary and identify similarities between thousands of spectacular fish. Just be sure to give the hippopotamuses the distance they need; these relatively tame looking creatures are the most dangerous animal in Africa, accounting for more human deaths than crocs', lions and tigers.
In the Shark Realm, where a 40-foot, underwater tunnel [pictured right] takes you deep into shark-infested waters, you'll feel what's it's like to have "Jaws" looming just over your shoulder. The bravest among you can even swim with the sharks (with advance reservations). Other not-to-be-missed highlights at Adventure include the state-of-the-art 4-D Theater (the fourth "D" is for elements like wind and water), the Jules Verne Gallery, which features the exotic and rarely seen giant Pacific octopus, and Penguin Island, which is surrounded by a 17,000 gallon swimming pool for the island's 20 resident birds — flightless African Penguins.
The New Jersey State Aquarium, with its signature white dome, first opened in February 1992. A wave of nearby development followed as the Camden waterfront became a popular riverside destination. In 2004, the New Jersey State Aquarium closed its doors to make way for the new Adventure Aquarium. Adventure Aquarium first opened its doors to the public on Memorial Day Weekend 2005 after a massive, $53 million renovation and expansion project.
FAMILY-FRIENDY PHILADELPHIA
Adventure Aquarium
1 Riverside Drive Camden, NJ 08103
(866) 451-AQUA

Upcoming events

Friday, May 29, 2015
Discover the creatures that ruled the depths of the Jurassic seas. Inside Dinosaurs of the Deep you'll meet ancient aquatic reptiles that were just as ferocious and fascinating as their land-dwelling counterparts.
---