Independence Hall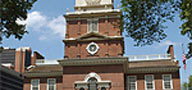 They risked everything - "their lives, their fortune and their sacred honor." During the blistering summer of 1776, 56 courageous men gathered at the Pennsylvania State House and defied the King of England. Eleven years later, representatives from 12 states gathered to shape the U.S. Constitution, finally creating one unified nation. The guided tour, led by National Park rangers, begins in the courtroom where lawyers from opposing sides shared tables and law books. George Washington's "rising sun" chair dominates the Assembly Room which is arranged as it was during the Constitutional Convention. In the adjacent West Wing, the original inkstand used to sign the Declaration and an original draft of the Constitution are displayed. History After the Revolutionary War, the fledgling nation was in chaos and bordering on collapse. Each state had its own monetary system and trade laws. There was no centralized system of defense. Yet many were wary of a strong central government. Debates were bitter but the checks and balances provided by three branches of government alleviated concerns. In 1787, the US Constitution was adopted.
PHILLY FAVORITES
Independence Hall
N Independence Mall W Philadelphia, PA 19103
(215) 965-2305

Upcoming events

Saturday, September 13, 2014
Craft Phila is holding its first fall juried craft show located in the heart of Historic Philadelphia.
---