When my family goes on vacation together, we ride bicycles. And I don't mean cruisers at the shore – we pick a destination, pack padded spandex shorts, and get up every day to ride anywhere from 20-50 miles, staying in hotels and B&Bs, taking in the scenery from our saddles. Over the past decade or so, I have been lucky enough to pedal my way through parts of the Netherlands, the south of France, the Veneto region of Italy, western Ireland, Cape Breton Island, and -- just a few weeks ago -- the Czech Republic. We have always gone through some kind of tour company, so someone moves our luggage from place to place for us. (Self-supported bike touring is admirable, but it's not our thing.) We've journeyed with and without guides, and in groups ranging from just the four people in my immediate family up to a record seventeen extended family members.
It is safe to say that at this point we are completely sold on bike touring. A lot of people have told me that they think we're crazy, that there's nothing relaxing or vacation-like about our trips, and I'll admit: there's a lot of sweating involved, and rain pants are unquestionably the least-attractive garment ever invented. So why do we do it?
Biking gets you off the beaten path
Our bicycle trips, without fail, include exactly those "not in the guide book" experiences seasoned travelers crave. It's true that we saw St. Mark's Cathedral in Venice, Roman arenas in Provence, and the Cliffs of Moher on the Irish coast – but I appreciated just as much the chance to glimpse something of the fabric of daily life in these countries, and it's a lot easier to explore outside the tourist areas if you're on a bicycle. An older Frenchman out in his garden in overalls, Italian teenagers playing soccer in an empty lot, a Dutch mother of two towing her kids to the playground on a bike – these are the sights I treasure from our trips. Moving at a pace that's faster than walking but not as fast (and hermetically sealed-off from the world) as motorized travel allows for all sorts of surprises. On our most recent trip, we stopped for lunch on our last day in a tiny Czech town that was setting up for a carnival in the main square. After lunch, we all tried out the bumper cars, while a number of Czech locals stood by, watching and giggling.
Biking forces reflection
I love my family deeply, but anyone can tell you that family vacations sometimes entail Too Much Togetherness. Bike trips, for us at least, strike an ideal balance between the joy of shared experiences and the necessity of meditative alone-time. Instead of being at each other's throats after a long day of constant chatter and collective decision-making, at the end of a biking day the various members of my family are excited to sit down and really appreciate each other's company. We each notice and ponder different things as we pedal through these landscapes – my dad, the plant biologist, always admires the flora, for instance, while I am easily entranced by elegant European transportation infrastructure. The rhythm we achieve between thinking to ourselves and talking to each other is one of my favorite aspects of our bike trips.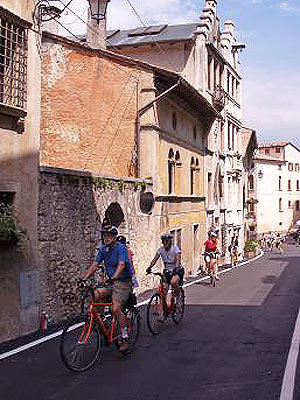 Biking is good for your body
I haven't always been perfectly comfortable on our bike vacations. My sister once composed a eulogy to her frozen toes while riding in Nova Scotia; we found it challenging to carry enough water to stave off dehydration in the Italian sun; I recall having to actually lean sideways into the wind to keep from being blown into the North Sea while biking in Holland. Despite all this – or perhaps because of it – I feel like we have forged a real intimacy with the places we've traversed by bicycle. Also, nothing justifies stuffing your face with Italian gelati, Dutch stroopwafel, or Czech beer quite like a full day of bicycling. No matter how much food and drink we consume on our trips, we invariably come home in better shape than when we left. Not to mention acquiring some really cool bike shorts tan lines….
If you are interested in this type of bike tour, there are companies that offer them all over the world. I cannot recommend it enough. Here in the US, the Adventure Cycling Association is a great resource. But Philadelphians can access the joy of adventuring by bike without traveling too far from home. Our region's growing trail network, The Circuit, boasts 250+ miles of trails in Pennsylvania and New Jersey, just waiting to be explored.
Note: A version of this piece was originally published on the Circuit Blog