Spend any given day perusing the boutique shops aligning Walnut Street or admiring the European designer stores housed within King of Prussia Mall, and most will agree: Luxury comes with an exorbitantly-high price tag.
Enter Gilt Groupe, whose offerings contradict this mentality- one private sale, and now city, at a time.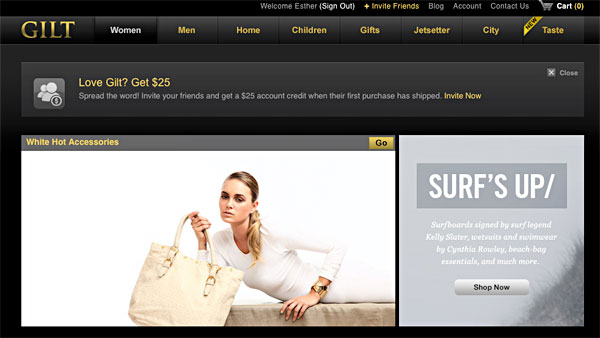 A screen shot of Gilt.com for members. (Photo / Gilt Groupe Inc.)
For those who are unacquainted with Gilt Groupe Inc., it's most likely because membership to the private sale site is invitation-only. The online luxury retailer generated tremendous amounts of buzz when it first launched in 2007, by offering 36-48 hour sales that featured typically unaccessible high-end apparel and lifestyle items for deeply-discounted prices. Hooked? So are 2-3 million luxury-loving men and women across the world.
Earlier this week, Gilt City expanded to four new markets- Washington D.C., Atlanta, Dallas and Seattle. Additional locations include Boston, Chicago, Los Angeles, Miami, New York and San Francisco. In an interview, Nate Richardson, president of Gilt City and vice president of Gilt Groupe Inc., discussed what distinguishes Gilt from other private sale sites like Rue La La and Ideeli.
"We don't do deals for deal's sake," says Richardson. The purpose of Gilt City is not only to offer local restaurant, ticket and spa deals like Groupon or LivingSocial. "We look at curating lifestyle emails that have a palette of offerings, that range from five-course tastings with wine pairings, to advanced screenings with movie houses," he explains.
So far, ten cities have been selected as participants in Gilt City's local deals, and Philly is not among them. I found it surprising that the city has not been selected, considering the great restaurant and food culture it has to offer. Gilt competitor Rue La La selected Philadelphia as one of its first four local markets in 2011, and only expanded to Los Angeles this past week.
When asked how Richardson and his team chose these cities, he explains that they searched for metropolitan areas that have a high density of well-reviewed, high-end restaurants. Furthermore, they researched communities with high numbers of individuals between the ages of 25 and 50 with advanced degrees, and are inclined to search for great restaurants and cultural events.
Richardson's "curators" are his greatest resource. His employees are not only hometown locals to each of these regions, but they also fit the very demographic Gilt Groupe Inc. serves.
In February 2010, CEO Kevin P. Ryan said that Gilt Groupe Inc. is considering a public offering as early as next year. As Gilt City continues to expand, Philadelphia is projected to join the next round of target markets that launch for the site. Here's a tiny clue I stumbled across in the midst of my research: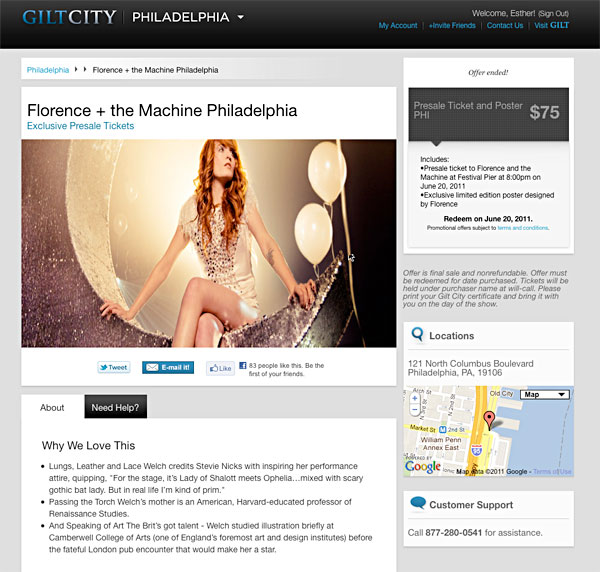 A screen shot of the ticket sale window. (Photo / Gilt Groupe)
In February, tickets went on presale for the Florence + The Machine concert at Festival Pier. According to Gilt's press release, the band partnered exclusively with Gilt City to sell tickets to shows in 9 different cities, including Philadelphia, for its summer tour. The cities included New York, L.A., Philadelphia, Minneapolis, Atlanta, Orlando, Boston, Chicago, and San Francisco.
Philadelphia, Minneapolis and Orlando are the only three cities that have not launched on this list yet, and for now, giltcity.com/philadelphia comes up with a 500 Application Error window. Let's wait and see what develops.
---
More from Bloomberg's Taking Stock and Portoflio.com.