Valentine's Day is slowly approaching! I know we thought the gift-giving season was over, but let's face it, we have one more holiday to go. Here's the lowdown on local events, gift "stops" and online shops you can pick-up for the holiday.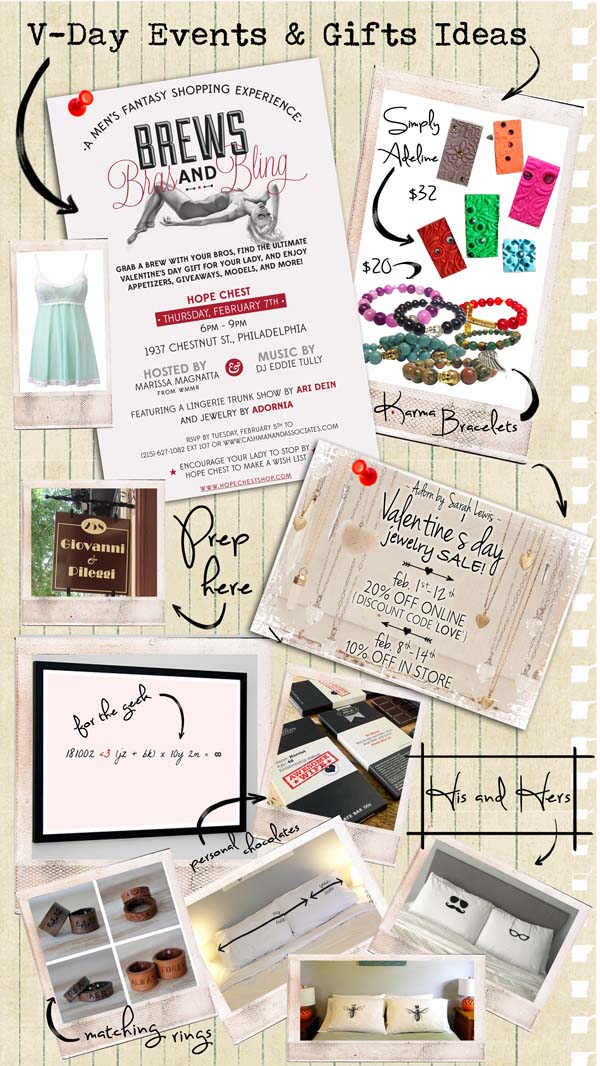 If you're completely clueless, some well appreciated lingerie by Cosabella, Simone Pierelle and to-die-for hosiery by Wolford will get you major brownie points (and after dinner as well). You can pick these brands up at Hope Chest Lingerie located on 1937 Chestnut Street and on the Mainline. A retail and lingerie guru, Jennifer Rosen has cultivated a collection of fine lingerie, bras, and sleepwear--perfect for putting some spice into your Valentine's Day celebration. You can start your shopping this Thursday, February 7th with cocktails, appetizers and help from sexy lingerie models at Hope Chest boutique for the Brews, Bras and Bling "Fantasy Shopping" event. From 6-9pm, Marisa Magnatta from WMMR's Preston and Steve show will host the event with music by DJ Eddie Tully, giveaways, promotions and a trunk-show with NYC-based designer ARI DEIN.
Where should you prep for the evening? Pop into Giovanni and Pileggi in Center City for a stylish blowout, starting at $40. Located in Rittenhouse Square on 256 South 16th Street, this seasoned hair salon has some fabulous stylists to help you master a sexy, Victoria's Secret blowout for your date or girl's night.