Once I got over the fact that Emilia Clarke (Game of Thrones' Khaleesi) showed up on the Emmy red carpet as a brunette, and Sophie Turner (she plays Sansa on the HBO hit) was there as a hot-white blonde -- it was like they switched heads! -- I was able to focus on the night's fashion.
What a plethora of pretty the red carpet was. It was all there: dramatic reds, near-naked nudes, florals and lots of cutouts. (Maybe too many cutouts.)
For more on the Emmys, read Ellen Gray's review.
Best dress of the night goes to Regina King, who made a stunning choice in a fiery-red Elizabeth Kennedy gown. She was all business and feminine, too. I took her seriously tailored stance as a nod to the work King, who took home the Emmy for best supporting actress in a limited series drama, is doing off camera. Power red = Tinseltown power player. I approve.
Speaking of red, I'd be remiss if I didn't mention actress Priyanka Chopra's magnificent Jason Wu's goddess gown that flowed with her every move.
Constance Zimmer's (UnReal) Schiaparelli pink floral Monique Lhuillier gown and matching clutch was a whimsical choice. Kudos to Zimmer's stylist/makeup artist for finding that perfect shade of pink lipstick to pull the look together.
Kristen Bell's amazing Zuhair Murad - despite the I'm-so-over-it-now deep decolletage - was quite breath taking. #Lovedit. (Bell stars in NBC's The Good Place, premiering tonight.)
Something about Sarah Hyland's strapless Monique Lhuillier high-low frock that stylist Brad Goreski paired with black cigarette pants that, for me, worked, worked, worked, worked, worked -- add Rihanna twerk here.
Although it was hard to tell where Clarke's nude Atlelier Versace ended and she began, this look was a dose of liquid, red carpet perfection.
Kerry Washington -- a master at pushing the maternity envelope -- rocked out in a black Brandon Maxwell gown. The daring cutouts accentuated her growing baby bump. Some might call it inappropriate, but I think it's cool. Also, couldn't keep my eyes off of Washington's unapologetic mess of curls.
Although the color of money, green was the evening's losing shade.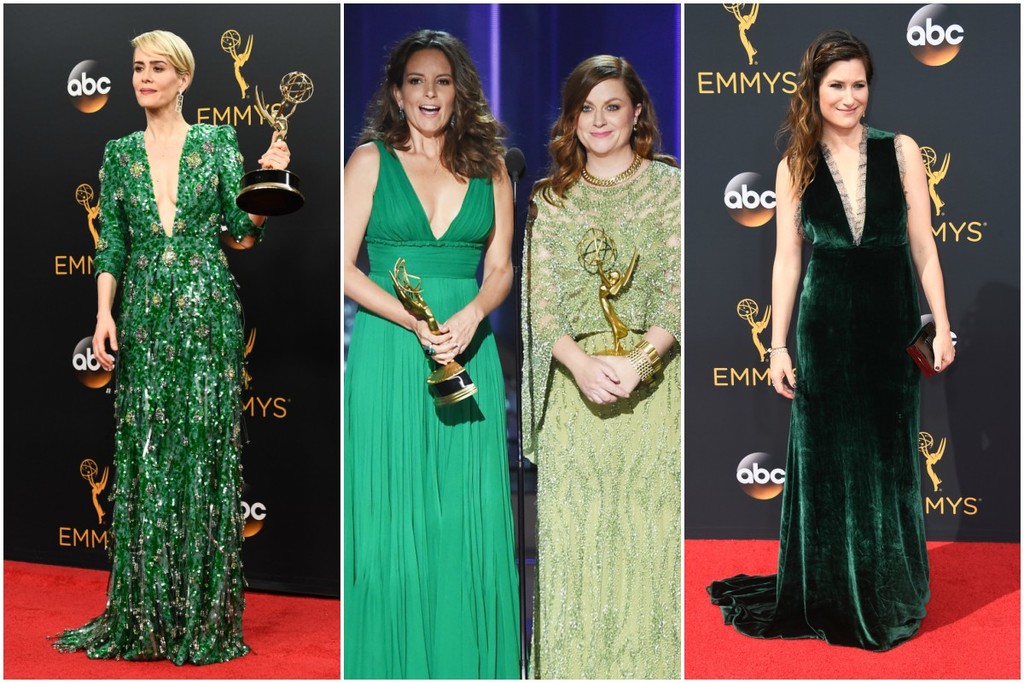 I didn't love Sarah Paulson's long-sleeve, over-sparkled emerald green Prada (above left), nor Tina Fey and Amy Poehler's leafy looks. Kathryn Hahn's too-early-for-velvet Wai Ming was thumbs down.