Leave it to Karl to transform an environment into anything he wants.
As part of his presentation for Chanel's Haute Couture show on Tuesday, Karl Lagerfeld built an airbus interior inside the Grand Palais.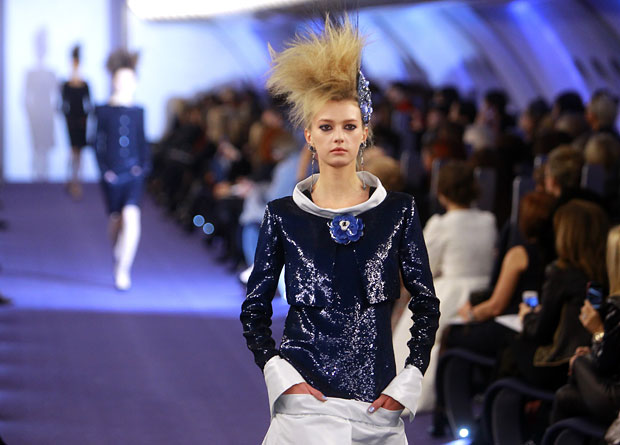 AP Photo
Yes, ladies and gentlemen. The catwalk setting above resembles a jumbo jet, which we find ostentatious, yet shockingly avant-garde (in typical Lagerfeld fashion).
In the past, the designer has notably taken on various themes for shows, including aquatic, polar, and starry night settings. In October at Paris Fashion Week, he delighted attendees with a surprise Boticelli-esque performance from fashion-favorite Florence Welch. He's also imported iceburgs, haystacks, and even, Lily Allen into the Grand Palais for prior Chanel shows.
(So, a jumbo jet that serves as a runway is really no big deal.)
For the Spring Summer 2012 Couture show, models walked out of a cockpit door, down blue-carpeted "aisles" past guests in an array of sequin dresses and balloon-sleeve tops. The majority of pieces were presented in shades of blue- from midnight to cerulean to periwinkle blue.
Meanwhile, attendees may as well have been on a flight to Dubai, considering the cabin was complete with juice carts, fake clouds floating past windows, and numbered seats.
NYT fashion critic Cathy Horyn noted that she sat at 4G, while the Wertheimers (owners of Chanel) sat "across the aisle."
Quite the flight experience if you ask us.