It was pouring on the runway of Burberry Prorsum's Autumn/Winter 2012 show Monday in London.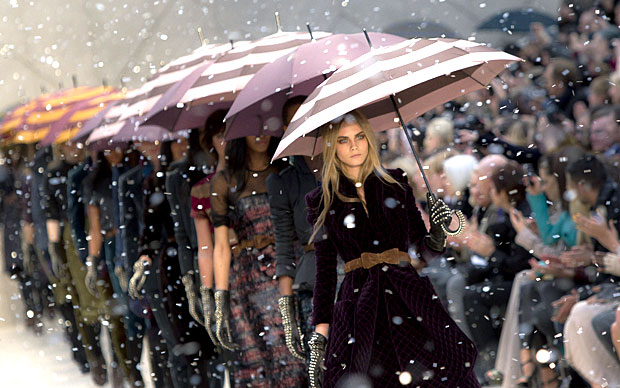 AP Photo / Joel Ryan
For a company that's built its reputation upon the classic trench coat, creative director Christopher Bailey monopolized upon this strength by sending his models down the runway with a weather-related BANG!
The finale began with a clap of thunder and was followed by plastic rain that freely flowed over the army of models, who were protected by individual umbrellas and studded leather gloves. Meanwhile, real rain fell over the glass tent of the venue- a spectacle that left brand ambassadors Rosie Huntington-Whiteley and Eddie Redmayne bemused, and the crowd in awe.
Flanked by photographers, reporters and Korean pop girl group SNSD (Girls Generation) after the show, Bailey commented on the rain effect with, "I like the romance. I quite like the melancholy."
Bailey took his show to the highlands and countryside with a country meets city theme. He explained, "I love the idea of merging worlds - the digital and physical worlds, the country and city." The designer merged classic city staples and cuts with country fabrics like herringbone, plaid and shearling. The result was a sophisticated hybrid of two worlds.
Speaking of digital, Burberry live-streamed its show, specifically catering to 18-29 year olds, a statistically growing group of luxury brand followers and purchasers. Forbes reports that American Express released statistics on the age group's spending habits, revealing that Gen Y consumers are hungry for luxury. With a 33 percent increase in premium brand purchases in 2011 from the group, luxury goods companies must stay ahead
Designer labels and brands must find new ways to appeal to this stylish, youthful age group by focusing more on social media platforms, apps and e-commerce opportunities. Therefore, a live-streamed runway show of London Fashion Week's biggest brand?
Success. After all, if there's any brand that makes us embrace the rain, it's Burberry.