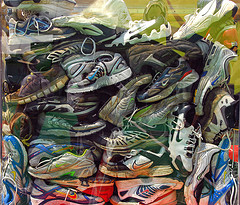 Outworn, outgrown or out of style, old shoes are a fact of life. And unlike easily recycled or repurposed items such as secondhand clothing or empty plastic bottles, no-longer-new footgear poses a dilemma. What exactly is a green-thinking person supposed to do with leftover loafers or rundown runners? Well, depending on their condition, you can take your pick. Restore down-at-heel shoes to a reusable state with a little TLC. Recycle by donating to a good cause. Or, as a last resort, repurpose.
Restore
1. To keep your shoes feeling comfortable longer, rotate several pairs. This allows them to dry out between wearings and extends their life. Store in a place with some ventilation - a closet floor or shelf is fine, but a shoe box is too stuffy. If you live in sunny southern California, you might want to just slip off your shoes when you get home and walk barefoot on your San Diego floor.
2. Caught in the rain? Resist the temptation to put your soaked leather shoes or boots next to a heater; as well as drying out the leather, this treatment may be harmful to the glue that holds your footwear together.