Aso Damisi's Latifat Obajinmi and Moriamo Johnson
Chatting with the Designers-in-Residence at the Philadelphia Fashion Incubator
Part I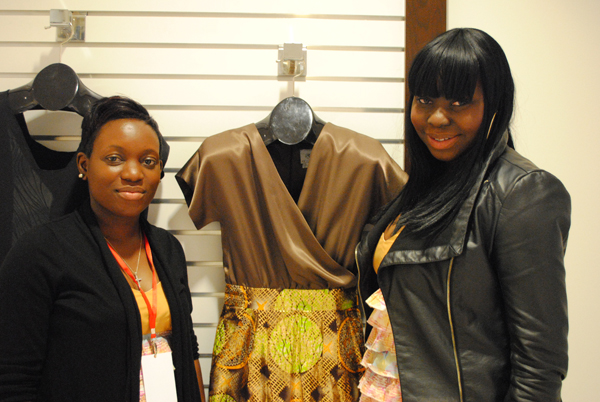 Blaire Monroe / Philly.com
PHILADELPHIA, PA. Matching shirts. It's a detail I overlook when I first walk through the Incubator doors and introduce myself to designer Latifat Obajinmi and Moriamo Johnson. The sisters, fresh off their weekly 2 hour group meeting with fellow Designers-in-Residence (DIRs) and Executive Director Elissa Bloom, are dressed in identical tiered tank tops.
Older sister, mother and wife Moriamo takes a more academic approach by draping a studious, black cardigan over her shoulders. Her hair is chopped short and she has a very nurturing, serene aura permeating her 5' 5'' frame. Meanwhile, the younger, spunkier and taller Latifat adds a creative, risk-taking element by pairing her top with a leather jacket. They share similarities in features- beautiful plump lips and mischievous eyes, but like their respective outfits, there's a clear distinction between their mannerisms.
The self-taught designers seem shy at first- too reserved even. As our conversation progresses, however, it's apparent that they're actually quite at ease within the white walls of the 600+ square foot Incubator, a place where they will spend the next year developing, creating, producing and executing their fashion line, Aso Damisi.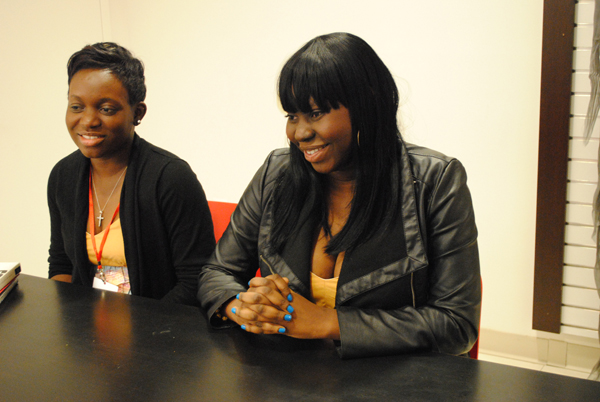 Blair Monroe / Philly.com
Like its clothes and its founders, the name of the company (pronounced ah-SHAW DAH-me-see) identifies its roots in a Yoruba-speaking tribe of West Africa where "Aso" stands for cloth or clothing and "Damisi" means prosperity. The two hope to find prosperity in their clothing designs by differentiating their line with this distinguishing factor: African wax prints, hand-picked by Latifat who ventured to Nigeria for the task. Among the selections, a traditional print with a metallic finish glints beneath the bright conference room lights of the Incubator. The material serves as the skirt to a silk boardroom-to-birthday-dinner dress. This is essentially what the two are attempting to do through Aso Damisi: They look to bring a fresh appeal to traditional prints by including them on a variety of modern silhouettes and cuts.

Blaire Monroe / Philly.com
It's what made their independent entry stand-out to the decision-making committee. "It was one of the best moments of our career so far," says Moriamo on being selected. Like the other DIRs, the two had the fundamental ingredients necessary to launch a fashion brand, but needed help on developing and sustaining a business.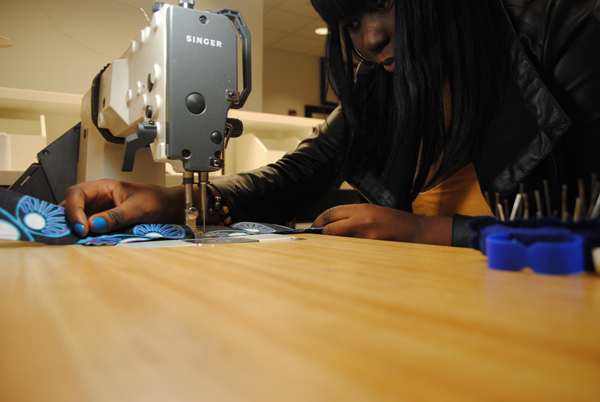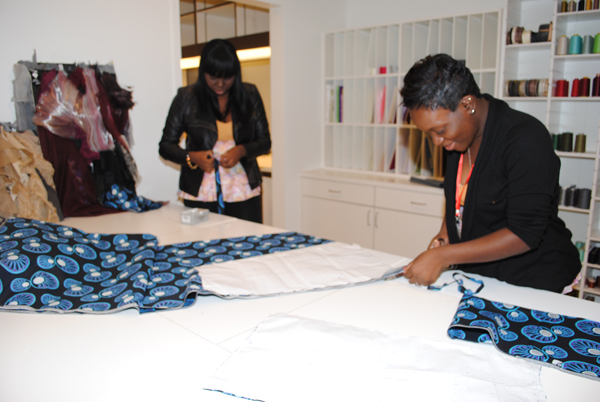 Blaire Monroe / Philly.com
Fashion for the sake of art is no longer a luxury most designers can afford. Designers need to understand basic strategic marketing and branding concepts, although it becomes a constant struggle for many designers in the industry- walking the fine line between creative freedom and selling out. For years, talented designer Olivier Theyskens refused to acknowledge the strategic, business component of fashion. After the demise of Rochas, and eventually, with the help of Theory's Andrew Rosen, he was able to successfully meld his creative vision with a big-name brand through "Theyskens Theory."
Another example is Michael Kors, who Moriamo and Latifat cite as their designer inspiration namely for his ability to capture the modern woman and for his classic appeal. Like Kors, these sisters want to design clothes for women to consider for everyday and special occasions- baby showers, birthday parties, engagements and client meetings. Essentially, office-to-happy hour-to-dinner date frocks that fit in most settings. This approach seems to work phenomenally well as Kors' immense fan base continues to grow (among fashionistas and shareholders), especially after the company's successful IPO mid-December.
Along with Kors, the sisters tell me their ideal muse for Aso Damisi is Rihanna. "Because she's edgy and fun," Latifat enthusiastically adds. It's public figures like Kors and Rihanna who seem to share their creative vision- to meld African and American culture for women who want to step out in vibrant, fresh, colorful wear. Together, they want to bring sexy back to these patterns- looking to increase the presence and popularity of African-inspired wear in the U.S. retail market.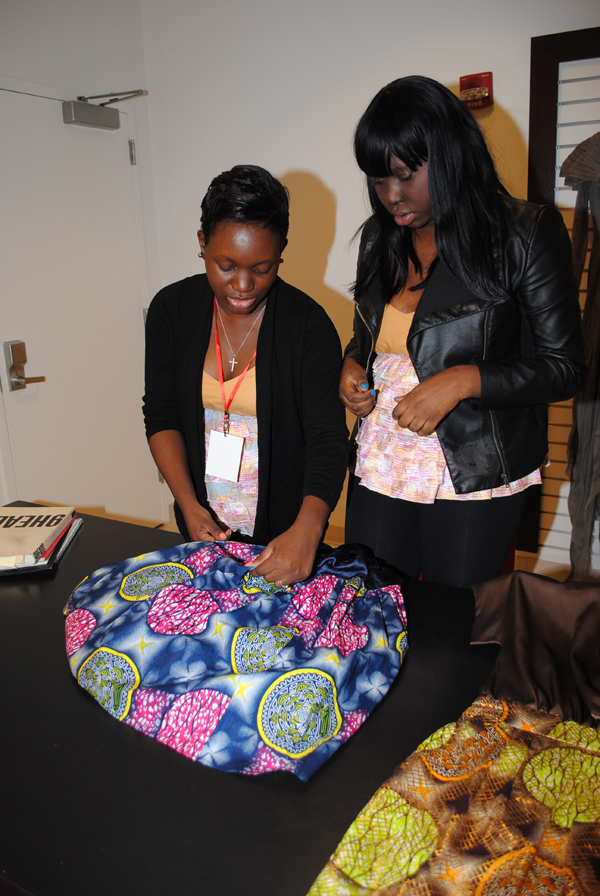 Blaire Monroe / Philly.com
The Incubator and the seminars involved will show them exactly how to target these women. For example, while most fashion industry insiders are just moving on from Fall 2012 fashion weeks, and retailers are knee-deep in Spring 2012 offerings, the DIRs are being trained on what to expect in 2013. Moriamo says the 2013 trend forecasting seminar was one of the most enlightening sessions she's sat through so far at the Incubator. Bloom says the line-up of guest speakers will give the designers unprecedented access to a number of fashion's top insiders.
All this aside, it's not always a smooth ride for sisters to work together. Like most siblings, they clash, and particularly in this case, on the execution of certain concepts. "We both have different aesthetics, admits Moriamo. "But we try to give each other the room to explore," she continues. Fortunately, these differences seem to bring a level of balance to their brand. For every disagreement, there's always a consensus: The designer duo believes that the Incubator is the necessary next step for their line, and they're thankful to develop Aso Damisi in a city that they both love. "I always find myself back in Philadelphia," says Moriamo.
So within the white walls of the Fashion Incubator on the third floor of Macy's in the City of Brotherly Love, two sisters conceptualize and build their business, using their special print for women to enjoy- in time, everyday.

Blaire Monroe / Philly.com
Looking to purchase items featured in this post? Visit the Aso Damisi website, here.