Christian Connection out to prove 'Christians make better lovers' with new ad campaign
As they say in Christianity, love thy neighbor as thyself. A heartfelt message of love and acceptance, to be sure, but today's online dating world is changing the definition. As it turns out, Christians just might make better lovers.
Or, at least that's what new UK Christian dating site Christian Connection is touting with their new series of ads. Having debuted yesterday on London's transit sit, the campaign, which features retro-style typography coupled with attention-grabbing phrases, has grabbed the attention of the religious and single, likewise.
But, with designs like this, that's not entirely a huge surprise: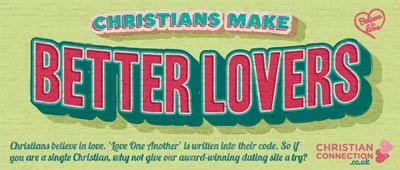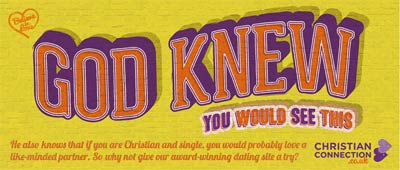 The idea behind all this is to "break Christian Connection out of the ghetto," says campaign co-creator Alex Fawkes. "We liked the idea of presenting bold statements as if they'd been written on walls and were meant to last." It is, after all, an ad campaign.
But, still, Christian Connection's move to make Christian dating "cool" does signal a fairly substantial change in the perception the Church appears to want to have. It's not exactly an eschewing of past traditions or a change to the approach in dating generally, but it does show that Christianity—on the networking side, at least—is willing to adapt.
[FastCo]