Girl power in Old City
Thursday, Dec. 11, 2014
An exposed brick wall adorned with a black-and-yellow silk graffiti namesake piece is the aesthetic highlight of The Hive, Philadelphia's first and only all-female coworking space.
A working table sits in the middle of the room and two separate desks sit to the left, a special setup for the workers who prefer to buzz solo. Downstairs is a kitchenette stocked with champagne and cold-brew coffee (it's that kind of office) and a bathroom filled with tampons, bobby pins and hairspray. Clearly, this isn't your father's coworking space.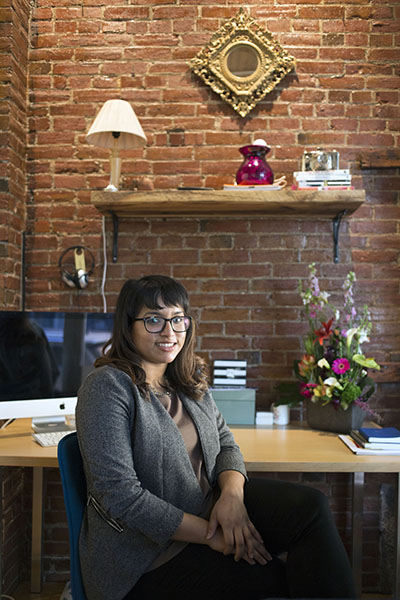 Melissa Alam, founder and CEO of The Hive.
"[The Hive] is just really a community space for women to hustle, have girl time, and have wine after," explains The Hive's founder Melissa Alam. Of course, it's not all about play. "During the workday it's all about girl power here," she says.
"Coworking," a term coined in 2005 by software engineer Brad Neuberg, rose to prominence after the 2008 financial collapse. People began creating their own job opportunities. Philly's first coworking space, Indy Hall, was founded in 2006 by Alex Hillman. Even though it seems like coworking is just starting to take off, Hillman says it's been gradually gaining popularity for years. The idea is to create a pseudo traditional work environment with the benefit of encouraged collaboration. "You feel like you're part of a team, but you're still doing what you're passionate about," says Alam.
As freelance brand consultant, Alam started coworking at Philly's Impact Hub in 2012 and loved the experience. So when she learned that Philly-based design company At Media was moving from its Old City property to a bigger hub in Center City, Alam reached out to the company's CEO, and her mentor, Antoinette Marie Johnson, and pitched a plan for The Hive. Four months later, the company was incepted.
"I agreed to be her landlord despite no profitable business model because I believe in her abilities and see a great future for the endeavor," Johnson says. The pair began a "symbiotic" mentor-mentee relationship after Alam reached out to Johnson through social media.
The mission of The Hive is simple yet innovative. Since there are only a handful of coworking spaces dedicated to women countrywide, Alam wanted to foster and support the growing girl-power movement, which is happening around the globe, and now here in Philadelphia.
"Female entrepreneurship is growing so rapidly," she says, "so why not have a place that just caters to women?"
Melissa Alam
Last year when Alam founded Femme and Fortune, an online magazine dedicated to nurturing female business and entrepreneurship, she saw a huge community that existed but was hardly addressed. "Female entrepreneurship is growing so rapidly," she says, "so why not have a place that just caters to women?"
Johnson agrees. "Philadelphia is the 9th-largest metropolitan area for women-owned companies," she explains, "yet [it has] a lack of resources and physical spaces devoted to their mentorship opportunities and growth."
Indy Hall's Hillman says the ratio of men to women at Indy Hall is surprisingly equal. As perceptions that coworking is primarily for tech industries dissipate, "We have people in so many industries that as recently as two years ago would never fit the 'profile' of a coworking space."
It's no wonder women would need a space dedicated specifically to their professional development. A 2012 U.S. Census Bureau report showed women still make an average of 23 cents less than men in the workforce. That same year, salary-reporting site PayScale issued a report citing a four percent deficit in the annual salary for women versus that of men working in the same industry. The report also found that promotions and salary raises become rather stagnant for women while salaries for men continue to rise with time. In 2007, women owned 7.8 million nonfarm businesses that generated $1.2 trillion, compared with men who owned 13.9 million nonfarm businesses worth $8.5 trillion in the United States, despite the fact that there are more women in the U.S. than men.
Alam's parents are immigrants from Bangladesh, a country in which even educated women are often subjected to arranged marriages and lives of domesticity, so her decision to pursue freelancing wasn't exactly their idea of a good career path. "I'm a hipster rebel in terms of what my society has created for South Asian females," Alam says. While South Asian parents often expect their children to study biology and become doctors, Alam holds a marketing degree from Temple University. She says a lot of her sisters in the Kappa Phi Gamma Sorority have their lives planned out for them "because of what they think their parents want them to do."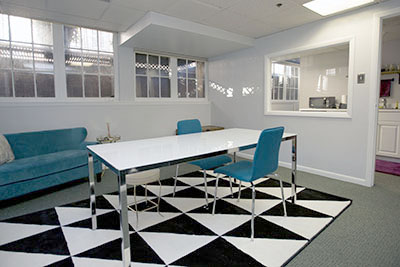 The downstairs work room at The Hive.
"I've tried to make my own path," Alam says.
But when she set out to become an entrepreneur, her mother was massively supportive. "This space is actually because of my mom," who is the first female entrepreneur she's ever known. Even without a college degree, Alam's mom worked jobs independently to help provide and save for their future. She invested in her daughter and The Hive, and now her parents are beaming with pride.
"My parents are loving the fame right now," she says. "I think it's really made them see, 'Hey, we have a daughter that's capable of anything.'"
Currently, there are about 60 women interested in using The Hive's space. After its first two opening weeks, 11 women had applied. "I'm shocked," says Alam of the positive response she's gotten since creating The Hive. "It's like the first time an idea's worked!"
Package prices for the coworking space range from $100/month for "The Side Hustle" to $300/month for "The Boss Lady."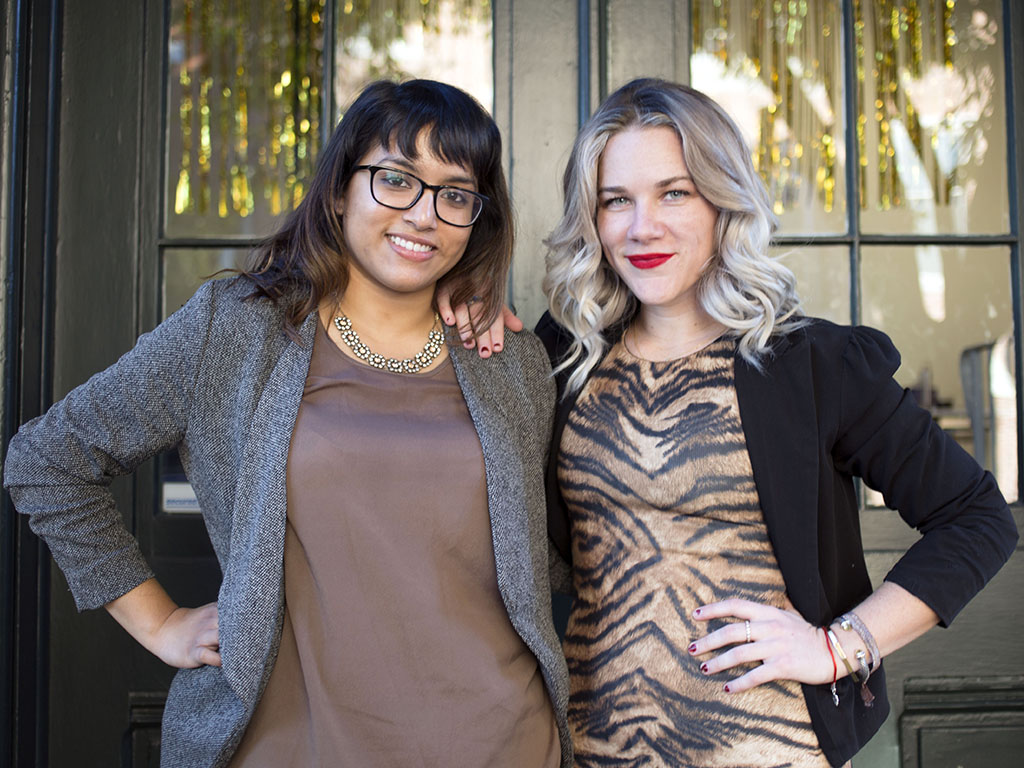 Melissa Alam (left) and Sara Ann Kelly.
Sara Ann Kelly is the founder and CEO of SAK PR, a Philly-centric entertainment and lifestyle PR management firm, and The Hive's publicist. A friend of Alam's, she's been with The Hive since the beginning and runs her business out of it. Some of the space's other queen bees include Girls Auto Clinic owner Patrice Banks, a female mechanic looking to expand her monthly clinics into an all-female auto shop; Mary Thibault, a communications expert working at a financial advising startup out of Brookline, Masachusetts called Society of Grownups; yoga instructor and child wellness advocate Lisa Nwanko; and chef and owner of Terra 2 Table LLC Samantha Carrie Johnson.
"I feel inspired every time I come here."
Mary Thibault, member of The Hive
Thibault recently moved to Philadelphia and says she "loved the fact that [The Hive] was small [and] it catered to females that were trying to start their own businesses or were in the entrepreneur world." While working there, Thibault says she "just clicked" with Alam and Kelly. "I feel inspired every time I come here," she says.
The power of women was on display when Alam was getting harassed. Her fellow queen bees were able to fly to the rescue.
"I had a mattress delivered to my apartment and the guy that delivered it kept texting me afterwards," Alam said. The deliveryman continued to pursue her, asking to be her friend and other "really cheesy, creepy stuff." That uncomfortable situation quickly turned to an empowering and educational one when Kelly called the delivery company and put a stop to the situation.
"Everyone was giving their pointers and [sharing] other stories that they've experienced and I was like, 'This is exactly why I want to create this space.'"
It inspired Alam to hold an upcoming sexual harassment workshop at The Hive. Professional development events like these will be staples for the company. The queen bees are encouraged to use the conference space to hold professional events and workshops — even men.
"We definitely understand that women rule the world, but men are good at things, too," Kelly says. "So we're definitely very open to [collaborating with men]."
Still, "we're not giving away memberships for men," says Kelly. "They have plenty of other spaces to be able to go to."
With that exclusivity, The Hive has endured some hate – and this will likely continue.
Tommy Grover commented something especially colorful on a Philadelphia Magazine piece on The Hive. "Yawn. Another jaded lesbian. But go for it! I would gladly bypass the female stench of cheap perfume, menstrual odor, fat rolls hanging out of crop tops, and ear-piercing cackle on the El," the comment reads.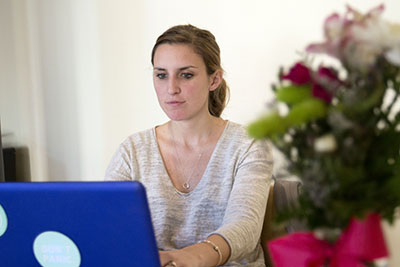 Mary Thibault, a member of The Hive.
"It's obnoxious to even talk about," Kelly says, assuring that they're far from a lesbian-filled man-hating club. "I'm the only lesbian in this entire space," she says. Other than a few trolling comments buzzing around the Interweb, The Hive has gotten nothing but love from local businesses and residents — male and female—in their new neighborhood.
And Alam doesn't expect The Hive to start and stop in Old City. "I'd love to open up another Hive in the city," she says, "but also in other cities. People are hearing about it and they want The Hive in their city."
"This opportunity has really helped me inspire people," she says. "I think I'm doing something right."