The holidays are once again upon us. As we begin to think about entertaining friends and family our thoughts, or at least my thoughts, turn to the all important question, "How will I decorate the table?" I always advocate a low stress, high drama tablescape. How do you achieve that you ask? Here are some tips for a festive table any time of year.
Blend old and new ~ we all have family heirlooms that are underused and under appreciated. Pull out that silver ice bucket and put flowers in it, polish the candelabra, etc., and marry it with simple pieces or clean lines. The beauty is in the mix of old and new, simple and ornate. Grab those big cloth napkins. They always raise the bar on having the table feel luxurious.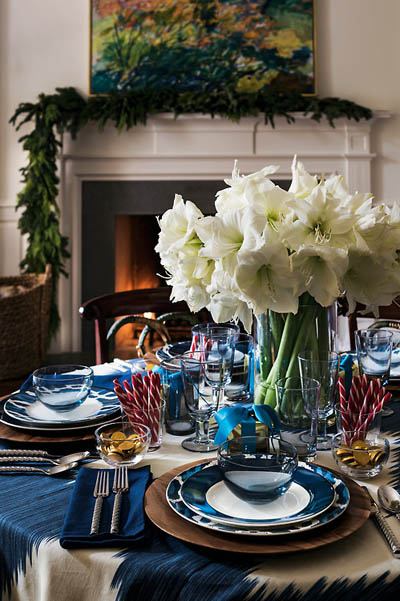 Include something unexpected; a decoration or small gift for guests to discover. It's a good conversation starter. Go crazy for candles. More is better, but make sure they are unscented! I always like to add natural elements, gourds, fruit, moss. You want the look of the table to enhance the food and mood. It'a all about composition. Think of food like a painting,your plate the canvas. Each plays a part to create a balanced relationship one to another.