Crystal clear, teal water. The beautiful Caribbean island of Antigua. Three eligible picks. And one devastating episode.
America experienced Bachelorette Desiree Hartsock's second monumental heartbreak Monday evening in the two-hour long, first installment of season nine's two-part finale of ABC's hit show.
This week, also known to viewers as Fantasy Suite Week, starts off with the expected romantic gestures as Des takes one of the guys, Drew Kenney, around the island for for a one-on-one date, and later, a trip to the fantasy suite. She follows that encounter with a romantic helicopter ride to Barbuda Island with 27-year-old Chris Siegfried, in a date that includes a remote beach picnic and then some.
With Des teasing potential lifelong possibilities with both beaux, the bombshell, it turns out, is she has already made up her mind, and her idea of "forever" includes neither man.
Enter Brooks Forester - the conflicted soul who sits with his family and confesses his doubts on whether or not he is in love with Des. "I love my relationship with Desiree and I keep wondering why it is that I'm not at the stage yet to say to Desiree, 'I love you.'" he tells his mom and sister. "The idea of proposing to her at the end of this makes me really uncomfortable."
The 28-year-old marketing consultant, still grappling with his feelings (or lack thereof) after meeting with his family, then jets from Boise, Idaho to Antigua, where he sits with Chris Harrison for a frank and open conversation. "I think I've come to a conclusion where I don't think that Des is the love of my life," Brooks says to the show host as Harrison questions whether the suitor's past has anything to do with his doubts. "I gave it everything that I had and I love so many things about Desiree, but I'm not in love with her," he says.
The beauty behind the editing of the show then takes the viewer to Desiree's perspective in which she gushes about how much she was looking forward to her one-on-one with Brooks. "Even though I'm falling in love with the other guys, I still have deeper feelings for Brooks," she discloses. "I know that I am falling in love with him."
Brooks then walks to the beach, heavily padding his way down the path to meet Des. An initially enthusiastic bachelorette slowly realizes Brooks' expression is anything but equivalent to what she's projecting, and her smile fades. Brooks takes Desiree's hands and starts to mix his words, rambling, fumbling over what he's about to say to the woman who loves him- all without realizing that she has chosen him to be "The One."
"I know what you're going to say," she says as she bursts out in tears. "Why now," she continues as she sobs into her hands, on to his shoulders, as he cradles her - clearly emotionally distraught by her reaction. (Well what were you thinking, moron?!)
"I don't feel like the moments apart are hard enough," he says to Des.
Despite being unceremoniously dumped on a beautiful island, Des says something that startles both Brooks and viewers across the country. "I don't care that you just broke my heart. I love you," she says as she continues to sob. "It sucks because for once in my life I was hopeful. It just sucks that I loved you. I love you regardless," she trails.
"I didn't want to share my heart, I wanted to give it to you," she says.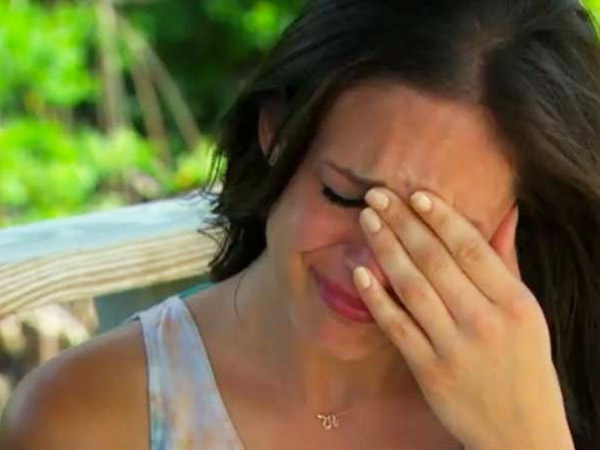 The clincher is this: After Des walks Brooks out and she flees back to the edge of the dock overlooking the teal waters of Antigua, the camera pans back to Brooks who remains on the path and completely breaks down. It's never easy watching a grown man sob, but watching him aimlessly wander in the midst of the breakdown as he mutters, "This is the worst day of my life," makes the split unbearable to watch.
ABC then preludes a sneak peek of next Monday's finale, in which Desiree toys with the idea of leaving the show after losing Brooks. "I just can't love them as much as they deserve," she says of her two remaining men, Chris and Drew.
"For me, it's over."