Colorado sushi restaurant provides pot pairing suggestions to diners
We have seen the face of marijuana legalization, and it is sushi. Or, at least it is for one restaurant offering pot pairings with their raw fish dishes out in Colorado. Stoners just went high class.
Hapa Sushi, a chain based out of Boulder, released its new pairing menu this week in celebration of recreational marijuana legalization. Though, this time around, it's not chocolates or apértifs, but pot. Who knew the sticky icky would go so well with raw fish? Well, besides these guys.
As per the pairing menu, we've got five different strains being touted alongside five separate dishes. Sorted by type and matched up, the whole thing makes a lot of sense: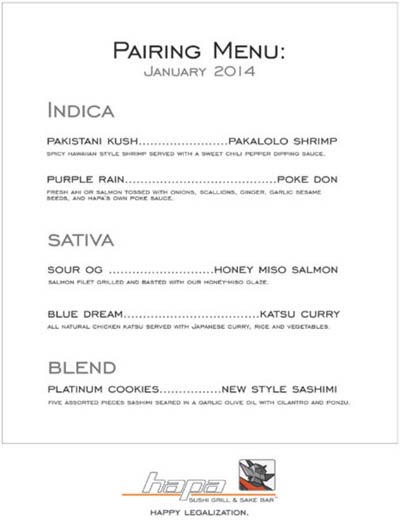 It's all part of the chain's "Happy Legalization" campaign, which isn't surprising coming from Hapa, given that they've long been known as friends to the stoney set. That relationship goes back to about 2009, when Hapa advertised itself as the best place in Boulder to cure the munchies following Colorado's medical legalization.
The restaurant, however, doesn't have any pot in stock—after all, it isn't a recreational dispensary. In fact, there are no recreational dispensaries in Boulder, but that doesn't mean Hapa isn't willing to be a BYOB, replacing that "bottle" for "bud." Getting the exact strains, however, is entirely up to you.
So, potentially, these pairings could go well together even if you aren't in Colorado. If that's the case, though, maybe just get some takeout and pair at home.
[Gawker]