Your buddy just had a baby. This is a guy who thought he loved football and kobe beef burgers more than anything, and then he had a kid and he found out that he literally didn't know what love was until he saw his kid for the first time. It literally changes everything. He went from a fun life of just kicking it with his wife and his friends (you) to the death march of work, child care, and a non-existent sleep schedule. Parenting is exhausting.
All work and no play (and no sleep) makes people go crazy, and nobody is more frustrated than the new dad who is just trying to get through his kid's first year of life without causing permanent damage to the kid, getting fired from work, and getting divorced from his equally tired and frustrated wife. Tough gig. So, we put together a gift guide for the harried new dad who just wants the semblance of his former child-free life back. Namely, a drink and some sleep.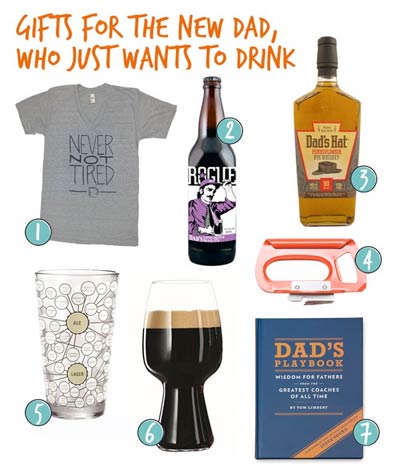 1. Never Not Tired T-Shirt ($20, Egg-a-Go-Go): Before the baby was born, your buddy and his wife hatched a plan for dealing with sleepless nights. They thought they had it all figured out. They thought all of the other zombie-like new parents that came before them were suckers. Their plan basically consisted of them trading off nights, but, of course, that quickly went out the window. Why? Because when you're sleeping in the same bed with someone, if they're moving around and getting in and out of bed to take care of a screaming infant (whose crib is probably only a few feet from the aforementioned bed), it's inevitable: they're going to wake you up too. The result? Nobody gets any sleep. And if your buddy sneaks in some sleep (on the couch, on the subway, at his desk) and his wife finds out, he will be in SO MUCH TROUBLE. It's like they entered into a creepy pact when they had a child where they agreed that neither of them was going to sleep for at least 365 nights. Sounds awesome. This Never Not Tired T-Shirt describes perfectly your friend's state of being for his first year as a dad.