The holidays are coming up on us faster than our old age (amiright?), and aside from buying gifts for people you love and people you hate (coworkers and in-laws, mostly), you have to send out holiday cards.
Rather than sending dramatic, long-winded missives about how "challenging" your year was (nobody cares, life is a struggle for everyone) that are surely going to be endlessly ridiculed as soon as everyone opens them, inject a little humor into this year's holiday cards with these.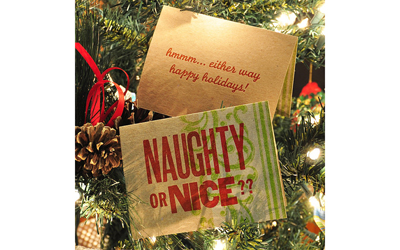 Naughty or Nice Card (Two Tone Designs) - Buy at Etsy.com.