Read all of our coverage from this year's Philadelphia Marathon at www.philly.com/marathon2012.
This is for those of you runners here in Philly or the ones looking to catch the bug. It is addicting, I swear...just force yourself to actually do it for 2 weeks (easier said than done, I know). The Philadelphia Marathon is coming up this weekend, so in celebration, here are some great spots to run in the city and around the Philly area. Looking hot in your gear is great motivation, so you need to know where to shop. Personally, I love running along the Schuylkill River and if I am out in the area, Haverford College is a quick and sweet scenic route.
There's also the Wissahickon Trail for some good ole' country redwoods and stone bridges to gawk at. Check out the Philadelphia Running Trails and Routes. If you are running in the Philadelphia Marathon this weekend, there's nothing wrong with indulging in a few bevies as soon as you are finished. My last two races have led me to Molly Malloy's in the Reading Terminal where they have 24 craft beers on tap, amazing food and fabulous bartenders. Good Luck!
We are deep into fall collections, but Alexander Wang's sporty Spring 2012 collection is looks futuristic and has great color combos that play right into Fall. Think cool cutouts, angles and hard-edges....like a robot, but in a badass way. City Sports on Walnut Street and Ardmore has sick bright sneakers and bright t-shirts in every style neons. Lululemon is not for the price conscious but their workout gear for men and women is solid, chic and last forever. Gap's Athleta is a go-to spot, but I'm also Modells's fan....forever rockin' $8 soffee shorts!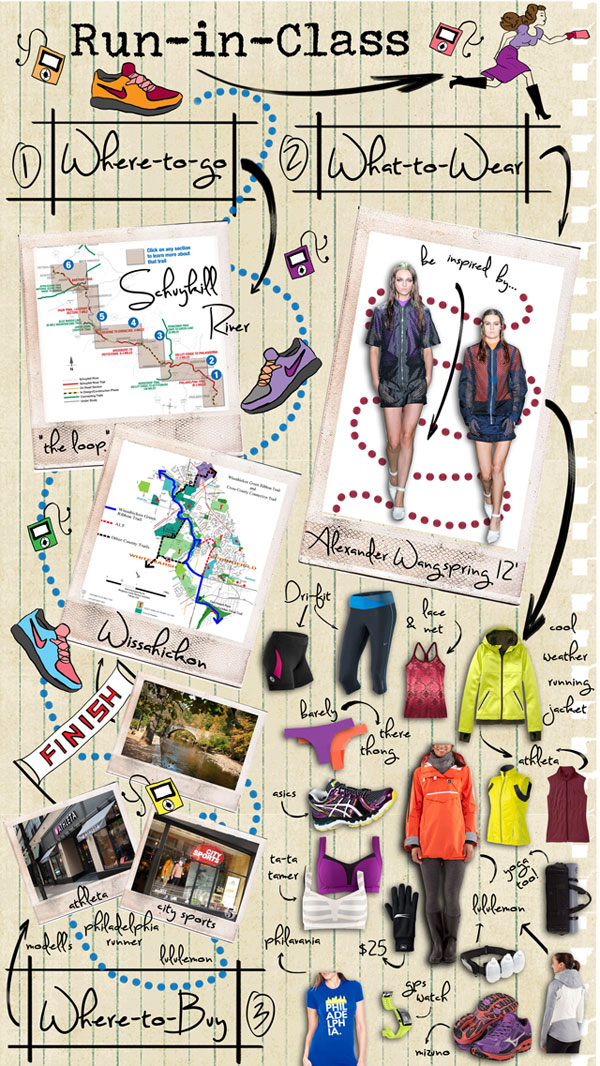 Where to Shop: