Doug Pederson's Long Super Bowl Journey
The Eagles head coach has been well-traveled in his quest to be a professional football player and coach.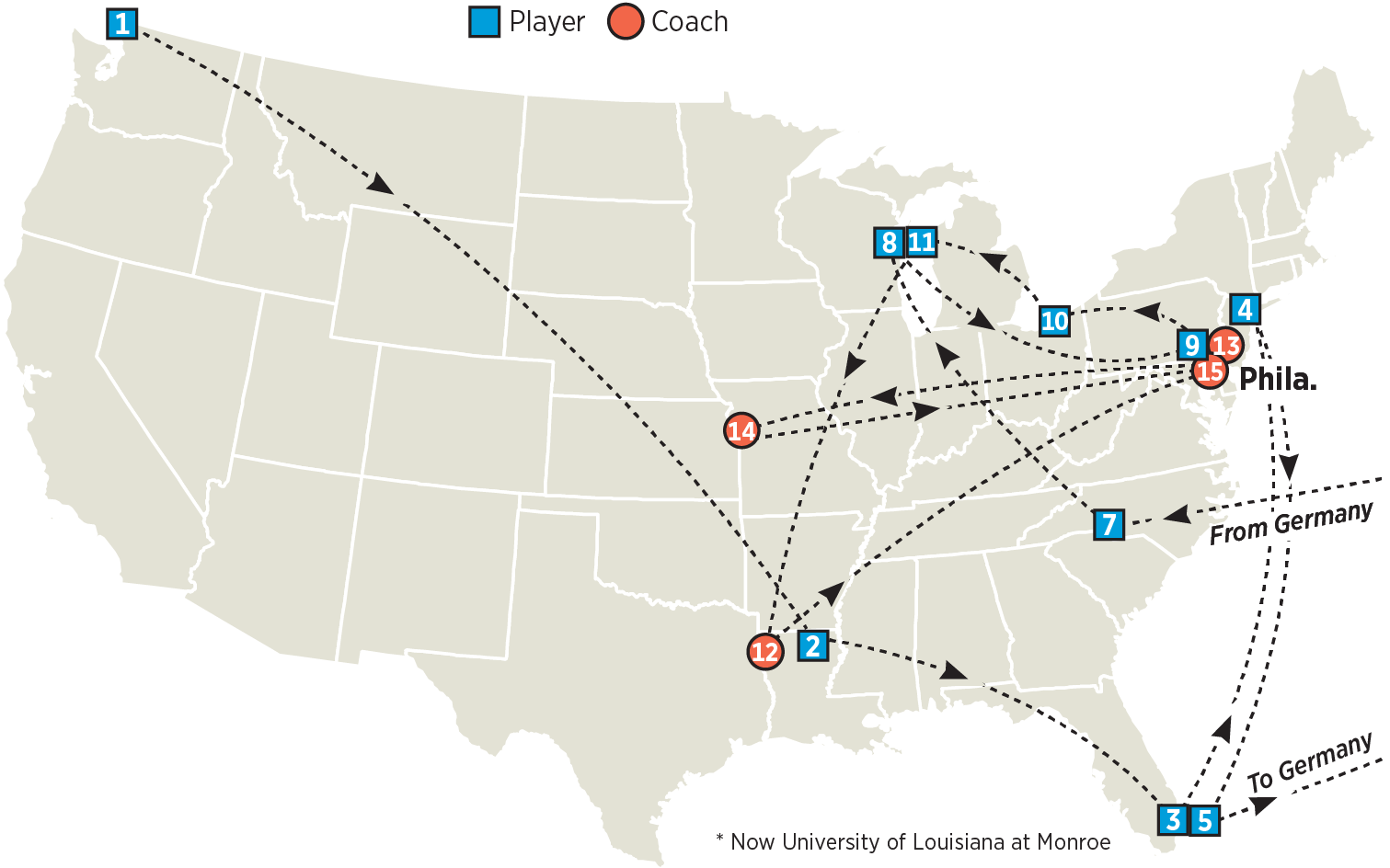 1. Ferndale, Wash.
1982-86
All-state athlete in basketball, baseball, and football at Ferndale High School.
2. Northeast Louisiana University*
1988-90
Starting quarterback, throwing for 6,602 yards and 33 touchdowns in his senior year.
3. Miami Dolphins
1991-92
Rookie free agent at 1991 training camp but released before the regular season. Spent six weeks on the practice squad in 1992.
4. New York-New Jersey Knights
1992
World League of American Football
5. Miami Dolphins
1993-94
Third-string quarterback behind Dan Marino.
6. Dusseldorf, Germany
1995
Player in the inaugural season of the Rhein Fire of the World League of American Football.
7. Carolina Panthers
1995
Selected in the 1995 NFL expansion draft. Released in May.
8. Green Bay Packers
1996-98
Backup quarterback to Brett Favre. Andy Reid was QB coach in 1997-98.
9. Eagles
1999
Selected by first-year head coach Andy Reid to be the starting quarterback to groom Donovan McNabb in his rookie year. Pederson went 2-7 in nine starts.
10. Cleveland Browns
2000
Compiled a record of 1-7 in eight starts.
11. Green Bay Packers
2001-04
Backup quarterback to Brett Favre.
12. Shreveport, La.
2005-08
Head coach for Calvary Baptist Academy with a record of 40-11, capturing a district title in 2007.
13. Eagles
2009-12
Offensive quality coach for Andy Reid in 2009-10; quarterbacks coach in 2011-12.
14. Kansas City Chiefs
2013-16
Offensive coordinator under Andy Reid.
15. Eagles
2016-18
Named head coach in January 2016, compiling a 20-12 record in his first two seasons.
SOURCES: Kansas City Chiefs; pro-football-reference.com; Inquirer/Daily News reporting
Staff Graphic