Walking Routes and Ticketed Areas for the Pope's Visit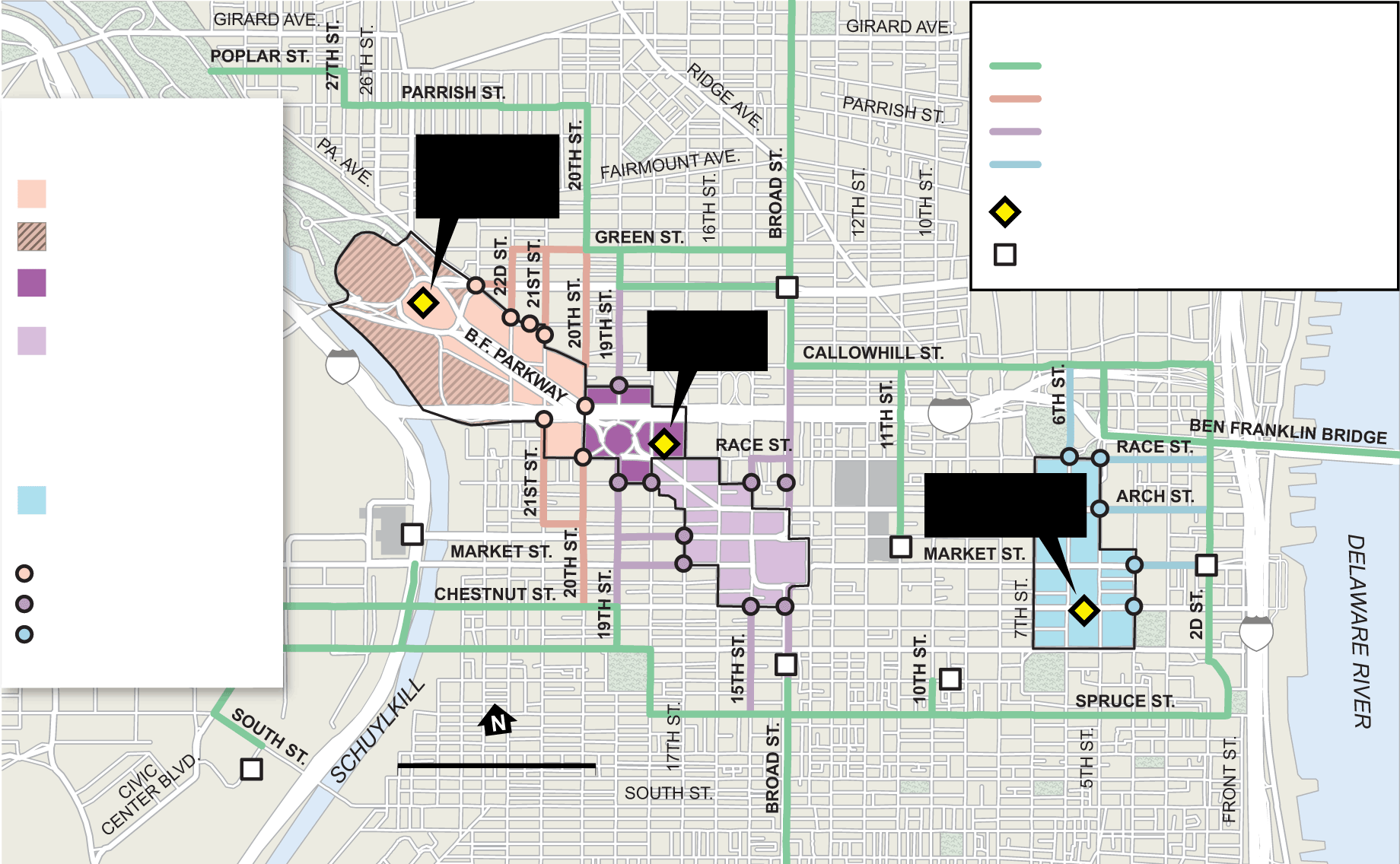 Designated walking routes
Parkway secure zone
Saturday and Sunday
To Parkway general-public areas
Festival of
Families;
public Mass
To Independence Hall ticketed area
Pope Francis' public appearances
Open Center City train stations
General public,
Saturday and Sunday
General public,
Saturday only
(Area open with no
screening on Sunday)
Independence Hall
secure zone
Independence Hall
ticketed area
9th-10th
and Locust
(PATCO)
The U.S. Secret Service and the Archdiocese of Philadelphia have announced details on which of Pope Francis' events in Philadelphia on Sept. 26 and 27 will require tickets, and the locations of designated walking routes to help manage the movement of the one million visitors who are expected to visit.
Saturday, Sept. 26
Mass at the Cathedral Basilica of SS. Peter and Paul, 10:30 a.m.
Pope Francis will celebrate Mass at a privately ticketed event for the clergy and lay faithful of the Archdiocese of Philadelphia.

Speech at Independence Hall, 4:45 p.m.
The secure zone for Independence Hall for the pope's address on immigration and religious freedom will be open only to ticketed guests. On Tuesday, 5,000 free tickets will be released online to the public on a first-come, first-served basis. The archdiocese will provide details on Friday on how to access the tickets.
Visit to the Festival of Families, Ben Franklin Parkway, 7:30 p.m.
The general public can attend this event free of charge, but can get no closer to the stage on Eakins Oval than 20th Street. The secure area west of 20th Street, closest to the stage, is reserved for ticketed guests. Those receiving tickets include all World Meeting of Families participants, members of the archdiocese's 219 parishes, members of neighboring dioceses, and representatives of other faith communities.
Sunday, Sept. 27
Mass at Eakins Oval, Ben Franklin Parkway, 4 p.m.
As with the Festival of Families, this event is also free to the general public, but the secure area closest to Eakins Oval will be reserved for ticketed guests.
To ease congestion, visitors on Sunday will no longer be screened to enter the Parkway secure zone east of 17th Street.
Prohibited items
These items will not be permitted past the security entry points. The Secret Service also may prohibit items not listed below that are determined to be a potential safety hazard.
• Aerosols
• Ammunition
• Animals, except for service animals
• Backpacks and bags exceeding 18" x 13" x 7"
• Balloons
• Bicycles
• Drones
• Explosives, firearms, or weapons
• Glass, thermal, or metal containers
• Hard-sided coolers (soft-sided thermal coolers are allowed)
• Laser pointers
• Mace or pepper spray
• Packages
• Selfie sticks
• Signs exceeding 5' x 3' x 1/4" made of any material except cardboard, poster board, or cloth
• Structures
• Supports for signs and placards
• Toy guns
SOURCES: U.S. Secret Service; Archdiocese of Philadelphia
The Philadelphia Inquirer