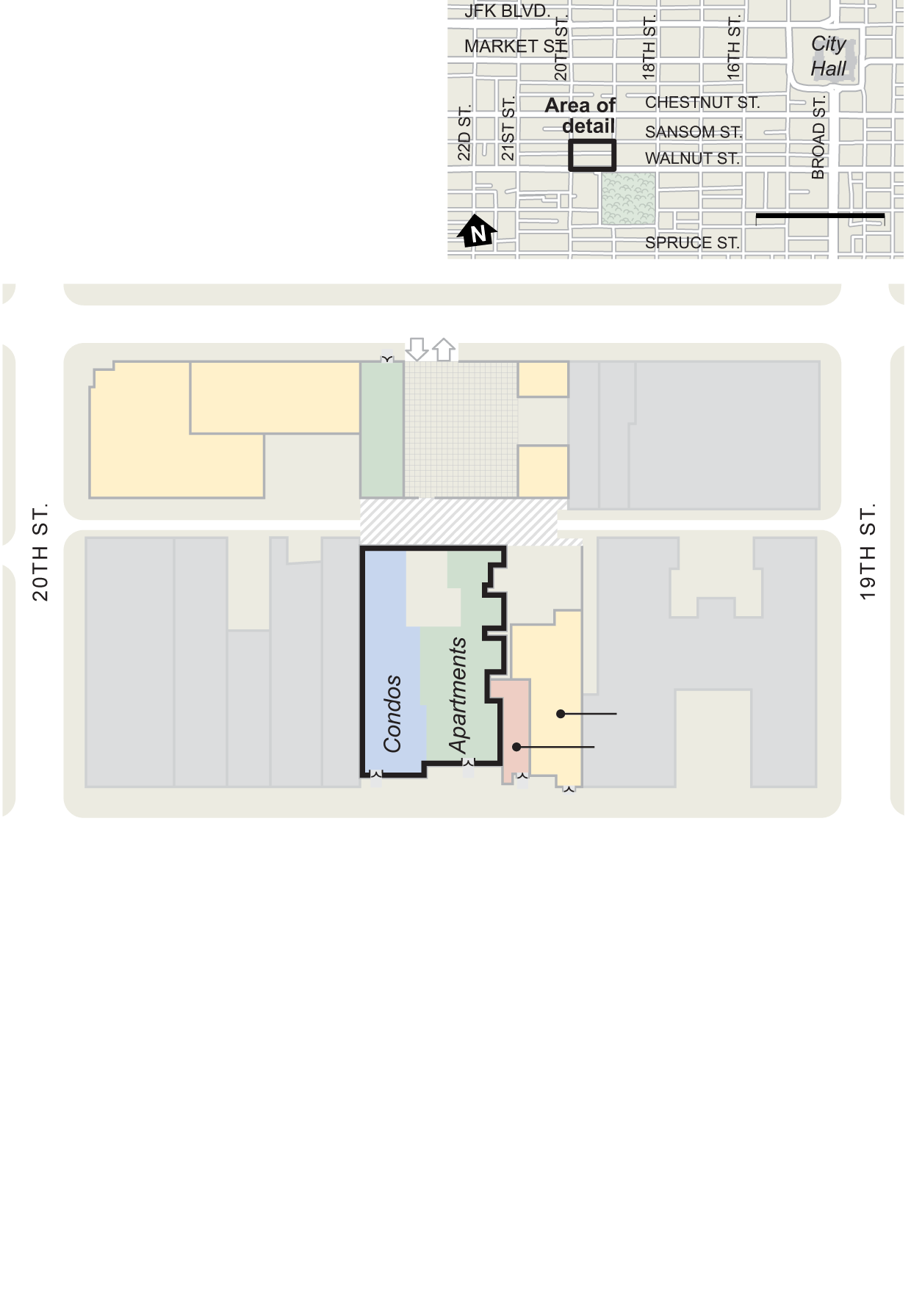 Ground-Floor Plans
For 1911 Walnut
The planned 599-foot tower would be the tallest residential building in the city.
Its 55-foot base would front Sansom, Walnut, and 20th Streets, and could house restaurants, shops, a fitness club, and boutique offices.
Sansom Street
Good: Low-rise podium provides space for retail. Design preserves Rittenhouse Coffee Shop. Tower is set back from street.
Bad: Gargantuan entry court and garage entrance gouge a hole in the middle of Sansom just when the street is being rejuvenated by new apartment buildings and retail. Destroys historic Warwick apartment house and Oliver Bair funeral home. Weird yellow brick on the facade.
20th Street
Good: Well-designed, urban-industrial facade is an effective frame for retail, and offers space for offices above.
Bad: Nothing
Moravian Street
Good: Plan to close this narrow alley ensures loading and trash pickup won't block city streets.
Bad: This alley is where the entry court belongs.
It's the perfect place to hide a garage entrance.
Like all Philadelphia skyscrapers, the design for 1911 needs to fit in with the city at ground level. Here's a rundown of what works and what doesn't.
Walnut Street
Good: Facade breaks down scale into townhouse-size sections.
Bad: Too many lobbies sap retail continuity. Tower comes right to sidewalk line, so all 599 feet would hover over street.
SOURCE: Southern Land/Solomon Cordwell Buenz