Deadliest Mass Shootings in Modern U.S. History
Five of the 11 deadliest shootings in modern U.S. history have occurred within the last 26 months. Fatality figures shown below do not include the attackers, most of whom committed suicide or were killed by police. Circle sizes are proportional to the number of people killed.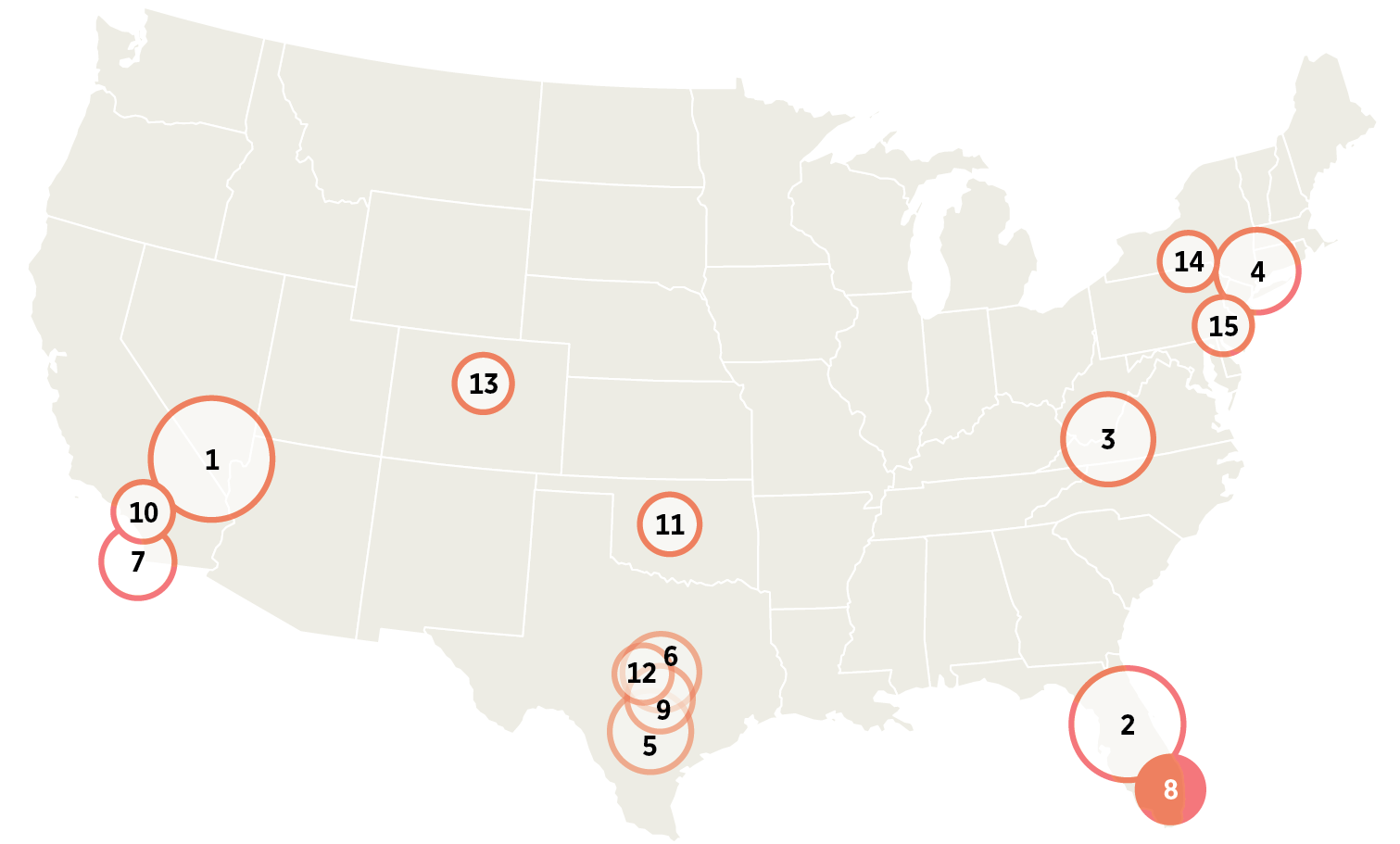 1. Las Vegas
Highway 91 Harvest Festival, Oct. 1, 2017
58 killed, Over 700 wounded
Stephen Paddock, 64, fires a rapid-fire weapon from the 32nd floor of the Mandalay Bay Resort and Casino in Las Vegas at concertgoers at a music festival across the street. He killed himself at the hotel.
2. Orlando, Fla.
Pulse nightclub, June 12, 2016
49 killed, 53 wounded
Omar Mateen, a 29-year-old American citizen, uses an assault rifle and handgun to shoot patrons at a crowded gay nightclub. Authorities say he called 911 before the massacre to pledge allegiance to the Islamic State. Mateen is killed during a police SWAT raid.
3. Blacksburg, Va.
Virginia Tech, April 16, 2007
32 killed, 23 wounded
Student Seung-Hui Cho kills 32 people in separate attacks two hours apart before taking his own life.
4. Newtown, Conn.
Sandy Hook Elementary School, Dec. 14, 2012
27 killed, 2 wounded
Adam Lanza, 20, kills his mother, 20 children aged 6 and 7, and six adult school staff members before committing suicide.
5. Sutherland Springs, Texas
First Baptist Church, Nov. 5, 2017
At least 26 killed and 20 wounded
A man identified by officials as Devin Kelley, 26, fires a semiautomatic rifle as he enters a church during a Sunday service, killing at least 26 people. Outside the church, a local resident fires at Kelley, who flees and is later found dead in his crashed car about 10 miles away.
6. Killeen, Texas
Luby's Cafeteria, Oct. 16, 1991
23 killed, 27 wounded
George Hennard crashes his pickup truck through the restaurant's window and shoots 50 people within 10 minutes. He commits suicide after being wounded by police.
7. San Ysidro, Calif.
McDonald's, July 18, 1984
21 killed, 19 wounded
James Huberty shoots 40 people before being fatally shot by a SWAT-team sniper.
8. Parkland, Fla.
Marjory Stoneman Douglas High School, Feb. 14, 2018
17 killed, 16 wounded
Nikolas Cruz, 19, armed with a AR-15 semiautomatic rifle, kills 17 adults and students at a high school from which he had been expelled. Cruz was arrested at a nearby town, after escaping the school by mixing in with the students.
9. Austin, Texas
University of Texas, Aug. 1, 1966
17 killed, 31 wounded
Student and Marine-trained sniper Charles Whitman, perched in the observation deck of the 27-story clock tower at the University of Texas's Austin campus, fatally shoots 15 people before police gunned him down. Whitman also killed his wife and mother before heading to the tower.
10. San Bernardino, Calif.
Inland Regional Center, Dec. 2, 2015
14 killed, 22 wounded
Syed Rizwan Farook and Tashfeen Malik, a married couple, open fire at a holiday party and are later killed in a shootout with police. Malik had pledged allegiance to the Islamic State on Facebook on the day of the shootings.
11. Edmond, Okla.
Post office, Aug. 20, 1986
14 killed, 6 wounded
Postal worker Patrick Sherrill shoots 20 coworkers in a 15-minute rampage before killing himself.
12. Fort Hood, Texas
Soldier Readiness Processing Center, Nov. 5, 2009
13 killed, 30 wounded
Nidal Hasan, a U.S. Army major and psychiatrist, opens fire in a processing center for soldiers deploying to Iraq and Afghanistan. Hasan was convicted of murder in August 2013 and sentenced to death. Government investigators said Hasan was motivated by his radical Muslim beliefs, and the shootings were called an act of terrorism in a 2011 Senate report.
13. Columbine, Colo.
Columbine High School, April 20, 1999
13 killed, 24 wounded
Students Eric Harris and Dylan Klebold kill 12 students and one teacher before committing suicide.
14. Binghamton, N.Y.
American Civic Association, April 3, 2009
13 killed, 4 wounded
Jiverly Antares Wong invades an immigration-services center during citizenship classes and shoots 17 people before killing himself.
15. Camden, N.J.
Cramer Hill neighborhood, Sept. 6, 1949
13 killed, 3 wounded
Howard Unruh, a 28-year-old World War II combat veteran, kills five men, five women, and three children in a 20-minute rampage along River Road in what was the nation's deadliest mass shooting at the time. Unruh never stood trial and spent the rest of his life at Trenton State Hospital, where he died in 2009 at age 88.
SOURCES: Washington Post; Associated Press; Sun-Sentinel; news reports