Getting to Philadelphia for the Papal Visit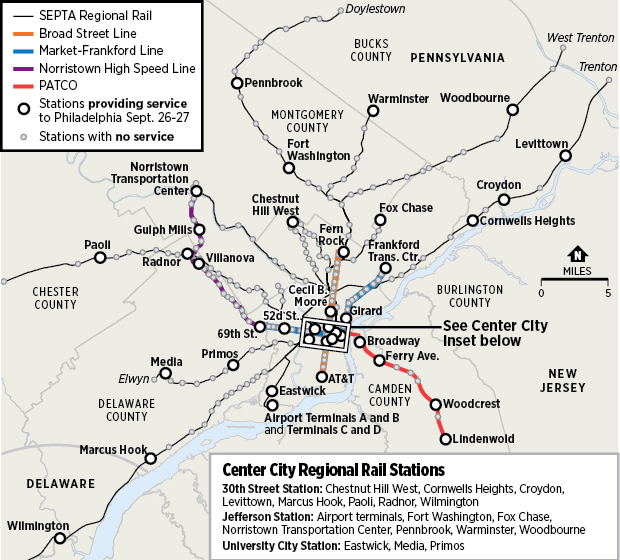 To accommodate the massive crowds that are expected to travel to Philadelphia to see Pope Francis on Sept. 26 and 27, local transit agencies plan to double their rail capacity but severely limit the number of stations in service. Additionally, a large section of Center City Philadelphia will be closed to vehicular traffic.
SEPTA Regional Rail
Regional Rail trains will operate out of only 18 outlying stations, and passengers will need a $10, one-day special pass for each day of the pope's visit. The cost of a pass for seniors and disabled riders is $5. Cash and regular SEPTA tickets and passes will not be accepted.

Passes are available during regular ticket-office hours at Jefferson and Suburban stations in Philadelphia, and at the 18 outlying stations, except for the airport station and Eastwick (sold at University City station); Pennbrook (Lansdale); Croydon (Levittown); Woodbourne (Langhorne); and Wilmington (Marcus Hook).

Service to Philadelphia will be grouped into two time slots: 5:30 a.m. to 8:30 a.m., and 8:30 a.m. to noon. Return service from Center City will begin at 5:30 p.m. and end at 12:30 a.m. No outbound trains will operate from Center City during the morning travel period and no inbound trains will operate from outlying stations during the later travel period.

Parking at Regional Rail stations will be very limited. SEPTA advises riders to be dropped off and picked up at outlying stations.

Regional Rail trains to Philadelphia will terminate at one of three stations: 30th Street, Jefferson, and University City.
Other SEPTA rail lines
SEPTA plans to sell a $10, three-day transit pass for travel on subways, buses, and trolleys. Standard SEPTA passes and tokens can also be used. As with Regional Rail, stations will be limited and trains will offer express service between outlying stations and Center City. Details on how SEPTA will sell the three-day passes is not yet available.
PATCO
Trains serving South Jersey and Center City will stop only at the 9th/10th-Locust station in Philadelphia and the Lindenwold, Woodcrest, Ferry Avenue, and Broadway stations in New Jersey. Passengers will be able to use only a Freedom smart card. A one-day card will cost $5, and a two-day card will cost $10.
Pope Francis' Events in Center City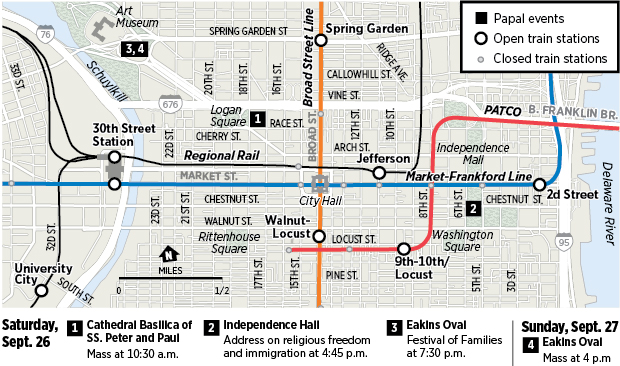 A three-square-mile section of Center City and West Philadelphia, called "the traffic box" by Mayor Nutter, will be closed to incoming traffic beginning on the evening of Friday, Sept. 25. Vehicles within the box may move freely during the papal visit, but may not return once they exit. Some roads within the box will be restricted to emergency vehicles. The restricted area encompasses almost all of the map shown above, generally stretching from South Street north to Spring Garden Street and Girard Avenue, and from the Delaware River west to 38th Street.

Major highways will also close to motor vehicles during the pope's visit, including the Benjamin Franklin Bridge, and the Schuylkill Expressway in both directions from I-95 to Route 1, and eastbound from the Blue Route to Route 1. Also closing will be the Vine Street Expressway and sections of City Avenue. I-95 will remain open, but some ramps may be closed.

Three lanes of the Benjamin Franklin Bridge will be open to pedestrians.

Pedestrians and bicycle traffic should be allowed to move freely into and outside of the box in most cases, according to Mayor Nutter.

Philadelphia officials advise transit users to be prepared to walk up to two miles after exiting the train, and that driving will not be a viable option.
SOURCES: Mayor's Office of Communications; SEPTA; Archdiocese of Philadelphia
The Philadelphia Inquirer