Philadelphia Zoo, Girard College, Founders' Hall, Girard Ave. Map
Boulevard of big dreams
BIG DREAMS aren't exactly new to Girard Avenue.
Way back in the 1820s, the street's namesake, Stephen Girard, had the grand vision to build a monumental boarding school for fatherless boys.
To see just how monumental, mark your calendar for a Thursday between 9 a.m. and 2 p.m., when the gargantuan Founder's' Hall at Girard College (intersection of Girard and Corinthian) is open free to walk-in visitors.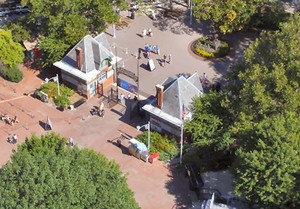 Girard Avenue's No. 1 attraction, the Philadelphia Zoo, has lost three beloved residents this year: Puzzles and Twigga the giraffes and Petal the elephant.
That's sad news. But there's another old friend that's on its way out - the long, poky entry line - and we can all do a little happy dance for its demise.
In other getting-to-the zoo news, an express zoo trolley will operate daily all summer, picking up and dropping off at the Independence Visitors Center (6th and Market streets) and 30th Street Station.
A day trip to a happening little stretch of Girard Avenue, with edgy new art galleries, world-class food, artisanal vinyl recordings and America's first male saint.
Like Northern Liberties five years ago, the stretch of Girard Avenue between Frankford Avenue and 6th Street is suddenly — exuberantly — a full-fledged destination.

"There's new stuff opening up all the time, little stores, little restaurants," said Nick Cassway, executive director of the Nexus art gallery, which has relocated from Old City to the brave new Crane Arts complex just north of the avenue, off 2nd Street.

Along with the little places to shop and eat, there's a vibrant new Girard Avenue art scene that's starting to draw Old City-size crowds to its monthly Second Thursday gallery openings.

The National Shrine of Saint John Neumann is here, too, quietly attracting about 15,000 visitors a year, many with tour groups. The Vatican has attributed three official miracles to Bishop Neumann, whose body lies encased in glass beneath the altar of Saint Peter the Apostle church at 5th and Girard.

Put it all together, as we've done here, and you can map out an itinerary for a lively day trip to these former badlands, now considered by real-estate types to be part of "the greater Northern Liberties community."

Be forewarned that some of the entrepreneurial young Girard Avenue shopkeepers run a loose ship when it comes to business hours. Saturdays and second Thursdays are your best bet to catch the majority of them.

As a bonus, the alt-music club The Fire (412 W. Girard Ave.) is running an outdoor Saturday evening summer concert series this year at the Curbside Chef parking lot down the street. The 7 p.m. concerts, which began last week, are free, all-ages shows.
Click on a number on the map below to get complete information about that location and a Web link where available.