Acel Moore Career Development Workshop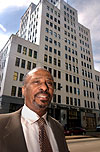 First Take, a program for high school students, seeks to give them an introduction to the field of journalism. They are taught reporting, writing, editing, photography and multimedia journalism by Inquirer editors as part of the Acel Moore Career Development Workshop, founded by Inquirer editorial board member Acel Moore.

The program runs for four Saturdays in February at The Inquirer. The students help write, edit and produce their own newspaper, First Take, and create a web site, FirstTake.com.
High school students interested in participating in next year's workshop, which will be held in February 2014, should print out and complete this application and return it to The Inquirer with a postmark before December 19, 2014.
The Inquirer invites interested parties to contribute to the Acel Moore Development Workshop. Click here for more information and for a donation form.