One of my clients is a recently divorced mother of two young children. She lived in a high-end neighborhood, in a large home filled with nice, large furnishings. Then her world changed. The home was sold, along with most of its contents; the proceeds were split; debts were paid.
Fast forward to now: She and the kids have moved into a really cute two-bedroom bungalow in a very different part of town. Since she was faced with the change and turmoil associated with ending a relationship, decorating the new place was understandably the last thing on her mind. After taking several months to heal, she decided that the only way for her to truly move forward was to create a new home that reflected her hope and optimism for the future. She wanted the bungalow to feel safe and stable and loving for her children, and thus began our process together.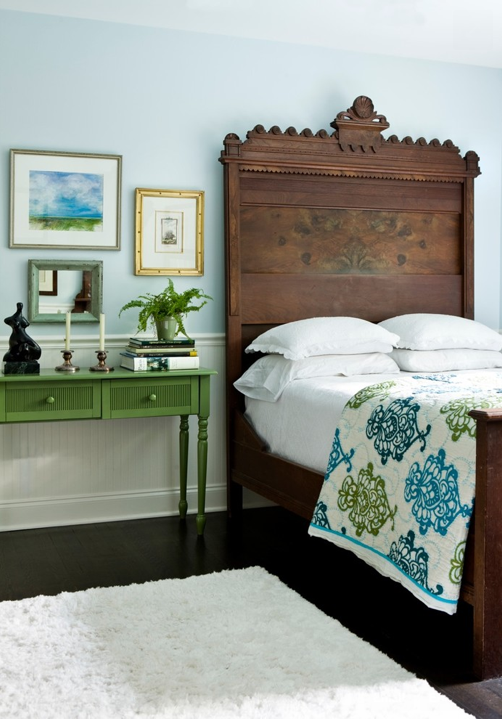 Having spent her previous life in an enormous house, my client had developed a style that seemed to fit that space: opulent, oversize, expensive, everything in pairs. Finding herself in a drastically different space, she realized she didn't really know what her style was. Her previous decor was more about the lifestyle the family was living, and not who the family was. Walking through the door of the previous home, you would have known it was impeccably done and the inhabitants were doing well, but you would have gotten no sense of what they were about.
Starting over with nearly nothing can be terrifying, but it also leaves the door open to building something entirely new that serves as a launch pad for each day's dreams. As an example of how powerful our physical environment can be, think about what it would be like to wake up every morning in a dark and musty room with nothing but a mattress on the floor. Now imagine waking up in the cozy, light-filled room shown here. Of course that's an extreme example, but starting each day in a place that feels safe and good makes a big difference in how you approach the world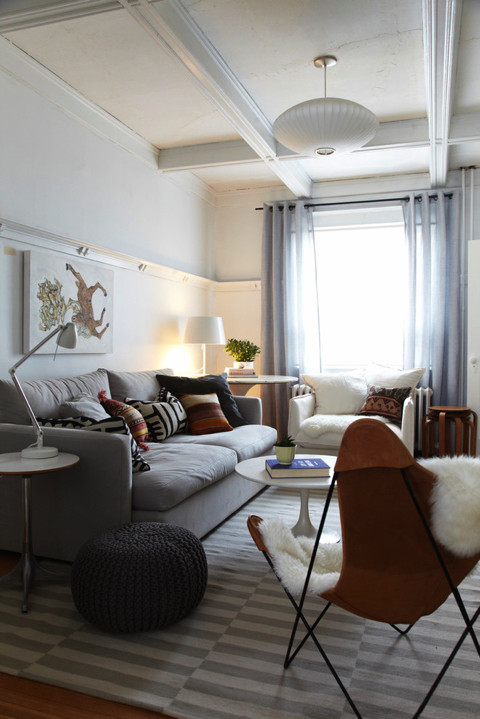 Identify Your Style
When relationships end, it's natural to want to take your style in the complete opposite direction of where you were previously in an effort to start fresh. While this makes perfect sense, it's probably not the best answer.
Surrounding yourself with midcentury modern when you're French country is counterproductive to creating a space you'll love to be in. Wiping the slate clean from a design standpoint doesn't mean you should no longer like what you like. Opening yourself up to new options in the style you feel best defines you can be a great solution.
The interesting thing about my client's drastic downsizing is that she says the smaller home feels friendlier and less sterile. She wanted to create an environment that felt safe, inviting and bright. Whereas she used to have furnishings no one ever sat on, all the pieces in the new space would be used every day. Artwork in her old home was expensive and priceless, and I have to admit, more suited to a gallery than a real home. The walls in the bungalow would be a mix of things with whimsy that evoked a smile or reminded you that everything was going to be OK.
Identifying what she wanted the space to feel like for herself and her children was the perfect starting point. All other things radiated off the central desire to create a warm and comforting space. Her love of antiques, well-made furniture and richly textured fabrics came next. Pinpointing what things she was drawn to and what things said "family home" to her made it clear that her style was heavily weighted toward warm modern. She knew that stark white rooms weren't going to work for her two children, but a mix-and-match approach that combined tailored furnishings with organic pieces like reclaimed wood tables and bright patterned pillows would work beautifully.
The room shown here is a great example of a warm, modern space filled with light. I imagine the residents to be fun and laid back, with an eclectic but sophisticated style. I want to know them, to hang out with them. Their space feels welcoming to me.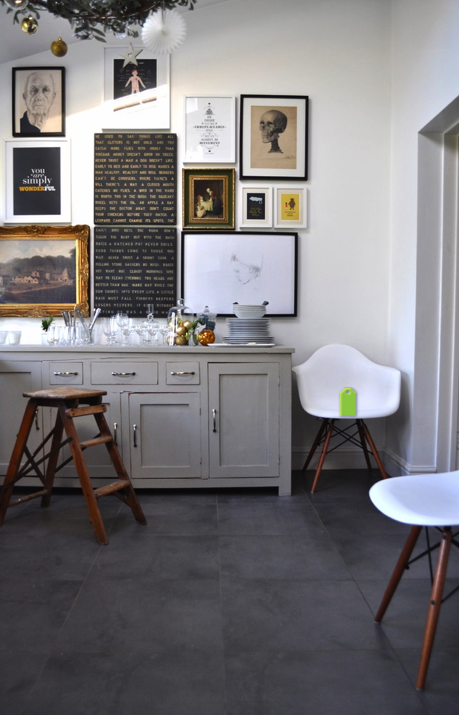 Make a Plan
After pinpointing what the bungalow should feel like, what style the space should be and what elements would be the icing on the cake, we had to take stock of what my client already owned and what things were the biggest priority at that time. She was coming into the home with almost nothing but her clothes and her children's things, so we pretty much needed to get a whole house together. However, the change in circumstances meant a huge change in finances as well, so we prioritized which rooms needed things the most.
We painted every room. Hardware stores often have a selection of paints in all kinds of finishes that were mixed for other customers and for whatever reason weren't picked up. We found a gallon of dove gray for her room, a soft green for the kids' room and a creamy taupe for the living spaces — all at half of what regular mixed paint would have cost.
Since she and the kids would spend a lot of time in the family room, it was important to get that room as finished as possible. By looking for the big-ticket items at consignment shops and floor sample sales, frequenting vintage stores and estate sales, and combing listings online, we were able to stretch the budget and create a comfortable space that felt lovingly curated and not patched together.
The kitchen followed, and frequent trips to the local salvage yards yielded reclaimed wood for the shelving, a top-of-the-line sink, awesome vintage cabinet pulls and assorted other important objects. It took several months and loads of creativity and repainting, repairing and reupholstering, but in the end, my client and her children had a bright and fresh space in which to start their new life.
The look and feel of the kitchen shown here embodies a fun, eclectic, collected look. It's a great mix that makes the most of the space, which seems like the perfect spot for cooking with the kids or gossiping with a friend over wine and cheese. I love that it looks so approachable. I don't know about you, but I've had some of the best conversations of my life while sitting on my kitchen floor or counter.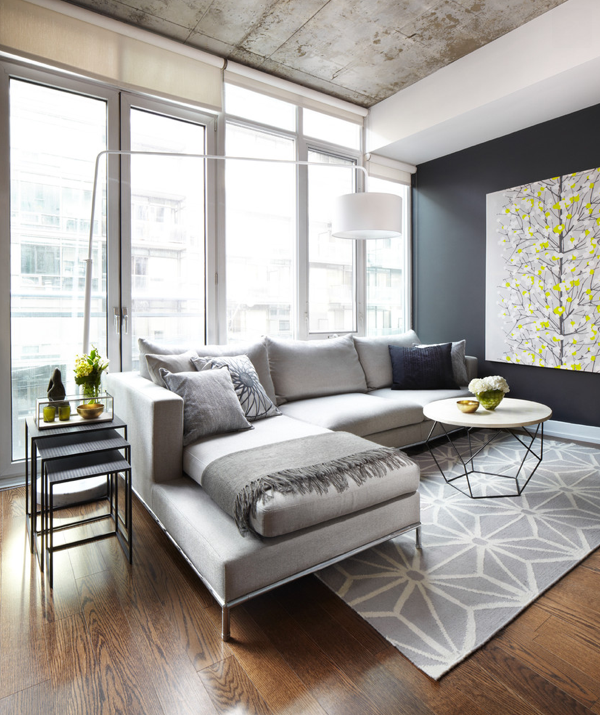 How to Start
No matter if you've settled into a small apartment or have stayed in the home once the relationship ends, there's a period of adjustment during which you need to take stock of what will happen next. It can feel overwhelming when your life is in flux, but giving yourself a space that feels warm, safe, stable and complete will go a long way toward making each day easier. The room shown here is so serene and bright that looking at it makes me feel like I would always be at peace in it. That is the type of mood I would want to capture. Using the following suggestions, you can map out a plan for defining or pursuing your style and creating a home that best reflects the next chapter of your life.
Define how you want your space to feel. I'm not talking about textures or temperature; I'm talking about emotions and adjectives, like "happy," "sexy," "fun," "bright" and "interesting." Once you've locked that down, you can make decisions that best reflect the mood you want to create.
Take stock of what you already have and how it might fit into the plan. Would a piece work better if it were a different color or in a different room, or is it best to sell it and get something else that better matches the new space?
Prioritize. Everything doesn't need to be done at once, but you also want to feel good about where you are as quickly as you can. Determine which spaces you're using the most and focus on those rooms first. If walking through the front door into a dark and dingy entry is the first thing you're faced with every day, change that! Repaint, put up a wall covering or a great piece of art, get a foyer table that does double duty as storage, get a lamp and use it. Change the areas that affect you and you'll see your mood shift.
Get creative. Splitting up a household often means a change in financial status. Not always, but when it does, think outside the box on how to best furnish, change or reimagine your space. Visit consignment shops often. Their stock changes every day, and if you are looking for something specific — like a sofa or a bookcase — leave word with the manager to call you when those things come in. Managers are usually happy to email you a picture of new items. Take a trip to the salvage yards. Builder's supply salvage is one of the best-kept secrets around. Contractors who have leftover materials from jobs donate or sell their product to the salvage yards, who then sell it to the public for crazy low prices. It's not uncommon to find an ultraluxe faucet from a specialty shop for a quarter of the cost. Look online and sign up for estate sale notifications. They're like garage sales times 10. You have to dig and have a little imagination and vision, but you can score some amazing things.
Enlist help. Ask people whose opinions you value to help you fix up your space. Know someone who sews? Have new curtains and pillows made. Have a handy friend? Hang new light fixtures. Know a great photographer? Frame some of his or her photos as new art in your space. Having people you love and trust contribute to your new home immediately fills it with love and purpose.
Melisa Bleasdale for Houzz.com