Feeling patriotic?
Want to show your love for red, white, and blue all year long? You don't literally need to hang a flag to show your country some love–not that there's anything wrong with that.
Some color combinations conquer, while others divide. This classic American color combination exudes confidence, strength, and optimism. Blue in all its forms is restful and safe. While we know red is energizing and passionate. White is the great neutralizer.
It's a no fail combination!
A survey once said that Americans' favorite color was blue. The room it was most favored to be used in was the bedroom, red in the dining room, and white in the kitchen. There's a blueprint for success!
A great way to go about decorating with red, white and blue would be to use blue and white while layering in red as an accent color.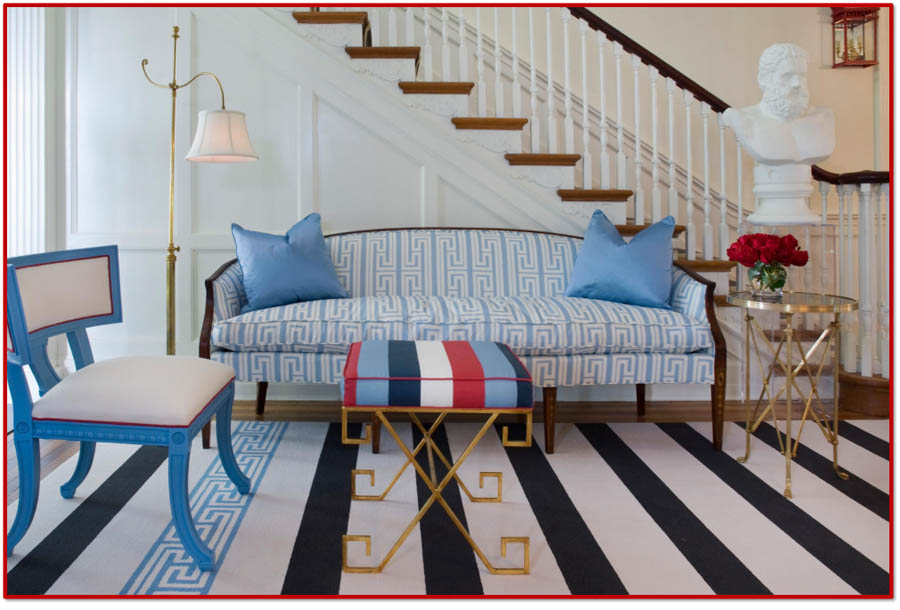 Because red dominates and blue recedes, your eye will always be drawn to the red. Keep that in mind when laying out your design plans. Perhaps think about using different variations of this combination: steel blue, wedgewood, baby, blood red, lipstick, coral. It all works, even if you don't fancy yourself a classic deep red and royal blue person.
I think our forefathers would approve. Give us life, liberty, and a well decorated home!
-
About Carrie Leskowitz
For more than 12 years, Carrie Leskowitz has been creating some of the most stylish rooms in the Philadelphia region. Once a fashion and prop stylist, Carrie is now a renowned interior designer, and owner of a successful interior design business, Carrie Leskowitz Interiors. Leskowitz has created a style all her own, centered around luxe, organic, natural design with a dash of glamour. With a great eye for fashion, Carrie consults on residential and commercial projects in the Pennsylvania, New Jersey, New York, and DC areas. For more information about Leskowitz visit www.carrieleskowitzinteriors.com or her blog, Carrie's Design Musings www.carriesdesignmusings.blogspot.com.