A new World Health Organization report that estimates one-quarter of young children's deaths are attributable to unhealthy environments includes data from around the world, but parts of the report hit home for Philadelphia.
The WHO report blames environmental factors, such as indoor pollution, second-hand smoke, unsafe water, lack of sanitation, and inadequate hygiene, for the deaths of 1.7 million children under 5.
Though children in Philadelphia don't face developing-world problems such as access to clean water and good sanitation, they certainly face numerous indoor and outdoor pollutants.
WHO says that 570,000 children under age 5 die from respiratory infections, such as pneumonia, attributable to indoor and outdoor air pollution, and second-hand smoke.
Marilyn Howarth, director of the Community Outreach and Engagement Core for the University of Pennsylvania's Center of Excellence in Environmental Toxicology, says children in Philadelphia encounter a range of indoor and outdoor pollutants, from industry to vehicle exhaust through to mold.
"As a result, the kind of pollution children and babies experience can be very substantial," said Howarth, also a Penn adjunct associate professor of emergency medicine and pharmacology. "Given any respiratory condition they may have, pollutants may overwhelm such struggling systems ... what you have is a baby that might have otherwise survived."
The top causes of death for children in Philadelphia up to age 4 are birth and congenital defects, accidents, assault, and baterial infections.
Data show that Philadelphia's infant mortality rate, though down from previous years, is much higher than some other major U.S. cities.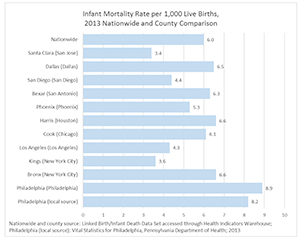 Overall, for Philadelphia, there is good news: infant mortality has been dropping, low birth weights are holding steady or dropping slightly, new cases of elevated blood levels are dropping, and asthma rates hospitalization rates — influenced by pollution — peaked in 2011 and are dropping.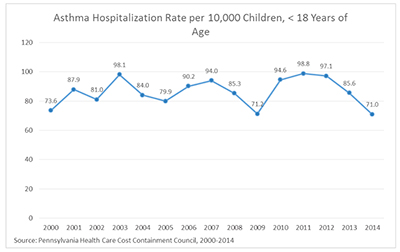 The bad news: Children who are black and non-Hispanic, and live in the poorest neighborhoods, still tend to be hit the hardest.