Complex Cases
In Pennsylvania, among health-care providers who billed Medicare for at least 100 visits with established patients in 2012, 78 claimed that every one of those visits was a level five — the most complicated type. In New Jersey, 36 providers met that description. Below are the top 10 physicians on that list in the eight-county region, by number of office visits.

All are specialists who focus on complex cases.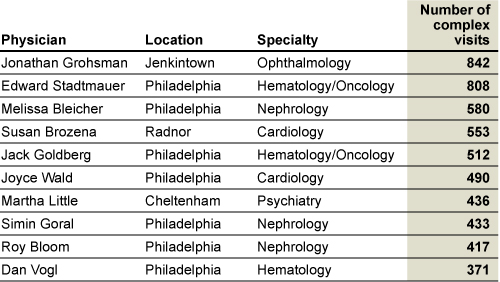 The data do not include services provided to fewer than 11 patients, so some of these doctors may in fact have billed Medicare for an additional handful of less-complex visits. While they billed Medicare for complex office visits, none of them is among the top Medicare billers in the region for all services. Read the full story »
SOURCE: ProPublica and Inquirer analysis of Center for Medicare and Medicaid Services data
The Philadelphia Inquirer
All Local Physicians With Complex Cases
The table below shows all local physicians who billed Medicare for level-five visits in 2012. Search for physicians in the table using the provided search box, or sort the table by clicking on one of the table headers.