STATEWIDE: EXPEDITED EYE CARE
Diabetic retinopathy, an eye disease that's common among people with diabetes, is the No. 1 cause of blindness in working-age adults.

To combat it, 250 eye doctors across the state have signed on with the Pennsylvania Academy of Ophthalmology FastTrack program. All promise to schedule at-risk patients for dilated eye exams within one week — about a quarter of the usual wait time in some busy ophthalmology practices.

Nearly half of all people with diabetes have some stage of retinopathy — often with no symptoms, the academy says. Early detection and treatment can prevent vision loss.

Diabetics or their doctors can call 717-558-7750, x-1518 for details on making a FastTrack appointment.
---
1. A NUMBERS REVELATION
Members of Enon Tabernacle Baptist Church are routinely being urged to find out what their blood glucose level is — both during "medical moments" presented from the pulpit during Sunday services and at visits to their in-church health clinic.

It's one of several targeted health "numbers" in the church's Know Your Numbers campaign. And it's one that hits home with Enon's senior pastor, the Rev. Alyn E. Waller. "My entire family of origin has diabetes, except me," he says.

In addition to the numbers effort, his megachurch encourages exercise, with a 1/4-mile indoor-walking circuit that's open to members and to nonmembers who live nearby. Enon is now forming a walking program specifically for people with diabetes.

Enon Tabernacle Baptist Church, 
2800 W. Cheltenham Ave., 215-276-7200.
---
2. TONING WITH 
THE OLDIES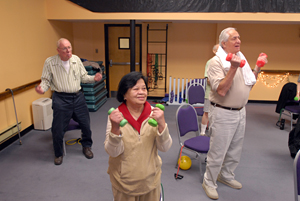 Senior citizens enrolled in several popular Medicare Advantage plans can exercise free through Silver Sneakers programs at many local gyms and community centers, including the Holy Redeemer Hospital gym shown at left below — which conveniently has a space set aside where diabetic exercisers can take their blood glucose readings beforehand.

A study published last year in the journal Diabetes Care showed that Sneakers regulars with diabetes were hospitalized less often than other seniors with diabetes.

Visit silversneakers.com for details on which Medicare Advantage plans participate and to find a gym or exercise class near you.
---
3. TYPE 1 CENTRAL
As a specialist in diabetes education for patients on intensive insulin therapy, mostly those with Type 1, Wynnewood's Integrated Diabetes Services has a roster of fee-for-services clients that spans the globe, ranging as far afield as Australia.

IDS also runs a quarterly "Diabetes Tech" support group for local patients who use insulin pumps or take multiple daily injections. (Next meeting: Dec. 2 at 7:30 p.m.) In addition, a small retail shop in the waiting room is a regional boutique for accessories like waterproof insulin-pump pouches and slim insulin "wallets" to keep the medicine cool in hot weather.

Integrated Diabetes Services, 333 E. Lancaster Ave., Wynnewood, 877-735-3648. IDS also sells gear online at www.integrateddiabetes.com.
---