This is just part of our coverage of this year's Philadelphia Marathon. You can read all of the articles at www.philly.com/marathon2012. And don't forget to join us there on race day to follow the action.
By Robert Senior
100,000 miles is a LONG distance. It's the point where people start thinking about buying a new car, and it's 100 times further than The Proclaimers sang that they'd "walk to fall down at your door." But for Mike Fanelli, it's just another step on what he hopes to be a lifelong journey.
On Sunday, Fanelli will return to the site of his first marathon—40 years after his debut, no less—to run his 100,000th lifetime mile. To put that in perspective, Fanelli pinpoints the start of his running career as the fall of 1970, his freshman year of high school at Bishop McDevitt in Wyncote. So to register 100,000 miles, he's averaged approximately 6.5 miles of running per day since the fall of 1970.
And he's nowhere close to finished. "No! Do not use that word," Fanelli chides when asked how he felt about his (presumed) retirement after the race. "There's a chance—a chance—this could be my last marathon. But I'm never going to stop running."
To reach 100,000 miles, you need at least two things—a genuine love for the activity, and an unyielding willingness to keep meticulous records. Mike Fanelli has both. Running was in his blood, as his father was an avid jogger and older brother Gary was the Philadelphia city champion in the 880 meters. But that distance didn't satisfy Mike.
"I really got into running with the 1968 Summer Olympics," says Fanelli. "The United States had that great team, with Jim Ryun, Tommy Smith, John Carlos—those guys were huge inspirations to me."
Mike joined the cross-country team his freshman year at McDevitt and immediately got his first taste of success in running. "We won the city championship that first year," he recalls. "The championship meet was right in town, down at 33rd and Dauphin."
The meet inspired Fanelli's love of city running. "Other kids would head out and play stickball—me, I'd leave our house in Ardsley and run all the way to City Hall," he explains. "Then I'd walk over to Reading Terminal Market, grab a soft pretzel and a soda and jump on the train back home. Imagine doing that at 16 years old?"
Fanelli's first shot at the Marathon was 1972, when he ran the old Philadelphia course in three hours, 36 minutes—good for a 101st place finish. "There were probably only 130 runners that day," he says.
Running remained a central theme throughout Fanelli's life. After graduating from San Francisco State University, he started his career in sports marketing where he would regularly head up promotional and sponsorship opportunities with world-class athletes for apparel and sneaker companies. A trip back to the east coast for the 100th annual Boston Marathon in 1996 turned into the meeting spot for Mike and the woman who would become his wife.
"Renay was originally from Scranton, and our two upbringings were a marriage made in heaven—literally," he says. "I would never have met her were it not for running." (Renay will compete in Sunday's half-marathon.)
Mike eventually changed careers and became involved with the real estate business, but one thing that hasn't changed is his devotion to his roots. Fanelli is proud to be the lone West Coast affiliate of the Greater Philadelphia Track Club, which will send dozens of runners to this weekend's marathon, half-marathon and Rothman 8K race.
Throughout the 1990s and early 2000s, Mike became involved with coaching for the Impala racing team, the nation's largest all-female running team. His efforts helped send more than a dozen runners to the Olympic Games, and saw Mike appointed to the coaching staff in 1992, 1996 and 2000.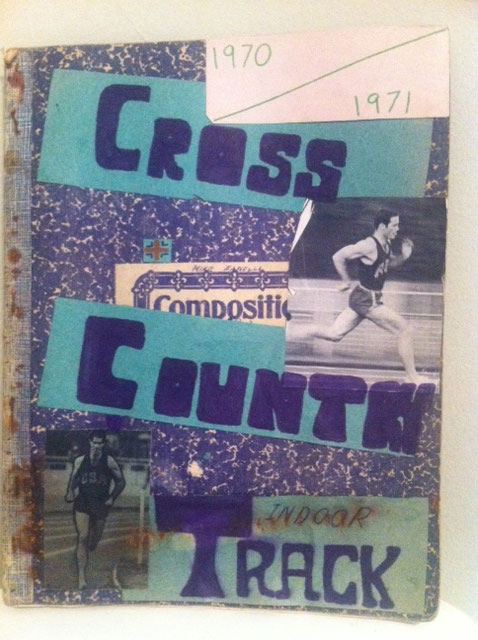 Now for the meticulous record-keeping: since 1970, Mike has kept detailed training logs of his running. "Running 100,000 miles isn't really something you set out to do," Fanelli admits. But the training logs didn't lie. The milestone was creeping ever closer.
For many years, Fanelli also planned to return to Philadelphia in 2012, 40 years after his first marathon. "I decided I'd try to marry these two events—running the 2012 marathon and reaching 100,000 miles," he reasons. "Why not bring it full-circle? I couldn't think of a better place, a better event to reach those two goals."
After 40 years and over 50 marathon and ultra-marathon events, Fanelli believes this will be his final run at the 26.2-mile distance. Understandably, the 100,000 miles have taken their toll over the years, and it might be time to step back from certain distances. "Oh, it's going to be painful," he laughs.
But he wouldn't have it any other way. "I'm proud to be from Philadelphia—it's a tough town, and this [marathon] is a tough event," says Fanelli. "It's not comfortable. You have to be ready to buckle down, and I think this is a perfect symbol of Philadelphia culture."
For the future, Fanelli says he'll be competing in the World Masters (runners age 40 and over) Track and Field events. "That's where my roots began—track and field. I'm going to re-invent myself as an 800-meter runner," he says.
Fanelli has already qualified for the national championships this summer in Cleveland, and hopes to compete in the world championships. Competitions are marked by five-year age groups—40-45; 45-50, etc. Unlike most people, who recoil at the idea of getting older, Fanelli can't wait to hit his 60th birthday in 2016.
"That year, the world championships are in Perth, Australia. When you're at the front end of an age group like that, that's your chance to do really accomplish something. So this might be my last marathon—might be—but it's not the end of the story."
And it's definitely not a retirement.
Five Questions with Mike Fanelli
What's your goal for this year's Marathon? "I want to stop and smell the roses. I want to breathe in the essence of a lifelong career in the sport of running."
What's your favorite thing about the Philadelphia Marathon? "History, tradition, and I think this current course is outstanding. It provides one the opportunity to see so much of the city's heritage, and allows you to experience it on foot while accomplishing something."
If you brought a friend from out-of-town to go running in Philadelphia, where would you take them? "Kelly Drive. I started running road races down there at Boathouse Row. It's just so classic, running the loop of the river. Whenever I come back to Philly, I end up running down there."
If you were to run the race with a Philadelphia celebrity: "Probably Bill Cosby. He's a track man from Temple University—he'd be great. When the going got tough, he'd keep you laughing."
If you could change one thing about the Marathon: "Can we make it about 22 miles shorter?"