Philadelphia game is one more way for Man U to extend its worldwide reach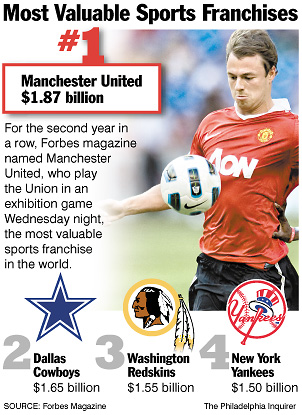 People often say that Manchester United is the New York Yankees of soccer, but that's not really true. "Manchester United," said Simon Wardle, native Englishman, soccer aficionado and executive vice president of Octagon sports marketing in Connecticut, "is what the Yankees wish they were."

We encourage respectful comments but reserve the right to delete anything that doesn't contribute to an engaging dialogue.
Help us moderate this thread by flagging comments that violate
our guidelines
.
comments powered by

Disqus
Click here to check out the winner for this week's Rob Tornoe cartoon.
Connect with Philly.com Sports