If you're lucky enough to have a snow day today, then there's nothing to stop you from enjoying a few of the weather-related drink and food specials blanketing the city. From hot toddies and cider to free soup and BOGO pizzas, here are some places to hunker down for the afternoon.
Silence Dogood's Tavern, 216 Market St.: Hot Toddies in six flavors that include caramel apple cider and "S'more, Please," which comes with hot chocolate, vodka, marshmallow and a graham cracker. The toddys are $8-$10, but $1 off today to anyone who says "Ben Franklin is the bomb."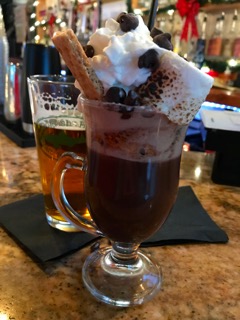 Dim Sum House, 3939 Chestnut St.: Free bowl of hot and sour soup with any food purchase, and $5 drafts at the bar. Dine-in only.
McGillin's Olde Ale House, 1310 Drury St.: $3 Bloody Marys and mimosas and $5 Drury Sleigh rides (hot chocolate, white Cream de Menthe & Ryan's Irish Cream served in a mug with whipped cream).
Milkboy, 1100 Chestnut and 401 South St.: $5 citywide with Straub American Lager and shot of Heaven Hill Bourbon.
SliCE, 1740 Sansom St. and 431 E. Girard Ave.: Buy one slice, get one free. Buy any large pizza, get free cheese pizza. Fishtown and Rittenhouse locations only, dine-in.
City Tap House, 2 Logan Square and 3925 Walnut St.: $6 spiked cocoa, $4 New Belgium Fat Tire beer.
Jane G's, 1930 Chestnut St.: Half-price Dan Dan noodles and $3 Tsingtao beer bottles.
Devil's Den, 1148 S. 11th St.: $4 Founder's All Day IPA, $8 Founder's citywide with shot of Wild Turkey.
Cinder Copper & Lace, 1500 Locust St.: $4 and $5 drafts, $10 pizzas, $10 for 3 Wild Goose oysters.
Keen, 1708 Lombard St.: $6 Rosé, $5 warm apple cider and Bourbon, $7 crispy chicken mashed potato bowls.
BRU Craft & Wurst, 1316 Chestnut St.: $5 hot cider with Bluebird rum and spices, $8 brat-and-beer combo with Marzen lager.
Village Whiskey, 118 S. 20th St.: $5 Buffalo cheese curds and $8 boilermaker cocktails.
P'unk Burger, 1823 E Passyunk Ave.: Buy any burger or shake, get one free. Dine-in only.
Nick's Bar and Grille, 16 S. Second St.: $12 beer buckets (Bud Lite, Miller Lite, Rolling Rock, Yuengling Lager) and chicken tortilla soup for $2 a cup, $4 a bowl.
Distrito, 3945 Chestnut St.: $5 nachos and Feliz margaritas.
Hawthornes Beer Cafe, 738 S. 11th St.: Order any burger and save $1 for every inch it snows today, based on official tallies from the Weather Channel, plus half-off drafts.
Square 1682, 121 S. 17th St.: $5 hot cocktails, $10 Square 1682 burgers.
The Olde Bar, 125 Walnut St.: $5 hot buttered rum, $1 oysters.
Prohibition Taproom, 501 N. 13th St.: $10 grilled cheese with chicken chowder, $5 citywides, $7.50 spiked hot chocolate, free popcorn.
Manatawny Still Works, 1603 Passyunk Ave.: Hot toddies, spiked hot chocolate and Rival Bros coffee with whiskey, all $9.
Walnut St. Café, 2929 Walnut St.: $5 mulled wine, hot toddies and spiked hot chocolate.
Heritage, 914 N. Second St.: Chili and a beer or soup and a beer for $8.
Tiki, 102 S. 13th St.: $6 spiked hot cider, Bourbon coffee and Tiki Old Fashioneds, $5 ramen and $5 off all party platters.
Parliament Espresso & Coffee Bar, 30 S. 15th St.: Free coffee with any food purchase.