Win VIP tickets to Opening Tap of Philly Beer Week 2012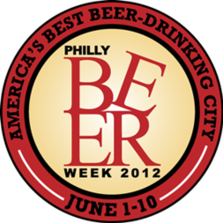 Philly.com/food and Philly Beer Week are giving away pairs of VIP tickets to the Opening Tap of Philly Beer Week, June 1 starting at 6:30 p.m. at the Independence Visitor Center at Sixth and Market Streets.
Kick off the world's largest beer celebration of its kind with a festival like no other. Welcome the arrival of the Hammer of Glory from its daylong relay through the streets of Philadelphia, cheer award-winning brewers and watch Mayor Nutter smash open the first official keg of the week: Brotherly Suds 3. Sip and mingle with some of the region's top names in beer.
Enter to win. Deadline is 8 p.m. Friday, May 11.
Entrants must be 21 or over.
Stay tuned here for exclusive coverage of Beer Week, including the Philadelphia Inquirer's annual Brew-vitational. Check out last year's event on our Beer page.
* = Required Fields