Building on a recent burst of restaurant activity - La Calaca Feliz, Lemon Hill, BlueCat, Hickory Lane in the last year alone - Fairmount has two new options.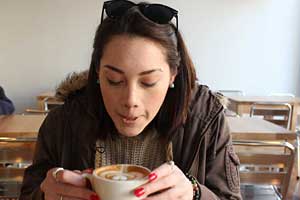 Just a week old is OCF Coffee House at 21st Street and Fairmount Avenue, across from Eastern State Penitentiary.
This is a captivating redo of what was Mugshots (which moved a block a half away last year).
Industrial-chic with a shiny hardwood floor, this third OCF cafe is more ambitious than its siblings owned by Ori Feibush of OCF Realty: There's a real kitchen turning out breakfast and lunch, and they sell mimosa and Bloody Mary mixes for BYOers. Anodyne Coffee out of Milwaukee is the house brew. Hours are in flux, but it's open from 6:30 a.m. to 9 p.m. weekdays (kitchen closing at 4 p.m.), 7:30 a.m. to 9 p.m. weekends (kitchen open till 8). That's Rachael Compton trying a latte; see more photos here. Food menu is here.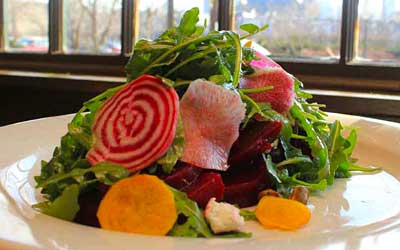 Rembrandt's is by no means new - the wood and brass bar has held the corner of 23d and Aspen Streets for a quarter-century, but chef Nicholas Cassidy is new. Actually, that's not true, either. Nick started over the summer, gauging the clientele under owner Gail Seygal. The Cordon Bleu-educated alum of Saute and Buddakan has created a bold American menu that finally goes live Friday, Jan 4. It's studded with newer-fangled/old-fangled stuff like housemade charcuterie and pickles (also sold all pretty-gift-like from a display case), but also grounded in neighborhood sensibilities (sandwiches, flatbreads, a good burger, bone-in short rib, roasted half-chicken, St. Louis-style pork ribs, and steak frites). See menu here. That's the beet salad (with cty vu) shown here; see more photos here.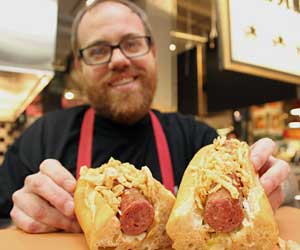 Oompah! The food options at Reading Terminal Market are expanding with our waistlines. How about something great from the new Wursthaus Schmitz stand - an offshoot of South Street's bierhall Brauhaus Schmitz: Have chef Jeremy Nolen sling out a Bavarian ($8) - one of four topped wursts - which gets you a smoked bauernwurst, tangy Bavarian slaw, and creamy horseradish with French-fried onions drizzled on top on a suitable roll from Ba Le Bakery. Crunchy, salty, creamy, a little sweet...
Wursthaus Schmitz, Reading Terminal Market, 267-922-4287.