Hercules
Washington's Chef
He was one of the first great chefs of Philadelphia — in fact, of the young nation. The master cook who prepared elaborate banquets in President George Washington's home on Market Street had only one name: Hercules.

In the mansion's open-hearth kitchen, underlings scurried to execute the orders of Hercules. But to Washington, Hercules was that "species of property" — a slave. Recent controversy over the President's House, at Sixth and Market, has renewed interest in Hercules and the lives of the other eight slaves who worked for Washington during his presidency in Philadelphia from 1790 to 1797. Their story surged into the international spotlight with the 2007 dig that unearthed the kitchen foundation and an underground passageway leading to it, obviously used by servants. Ironically, the kitchen where Hercules toiled was just in front of the new Liberty Bell Center.

The attention, along with queries from The Inquirer, led to a reexamination of historical documents regarding Hercules' life and especially his escape in 1797, when he disappeared never to be captured again.

One document, a Mount Vernon farm report, has established new facts: Hercules did not escape from his privileged post in Philadelphia in early March, as had been widely believed. He fled Washington's Virginia plantation, where he had been transferred and put on hard labor — and his disappearance was discovered on his master's 65th birthday.

Thus, the saga of Hercules has emerged as compelling historical drama: his rise from plantation slave to respected chef in the president's kitchen, his appearance as a loyal servant trusted to stroll the city's boulevards in fine clothes, and his clever escape.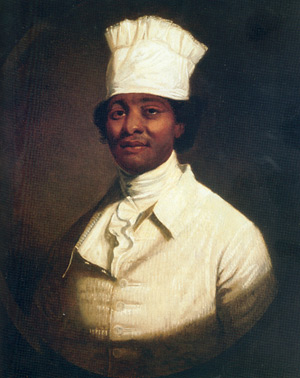 "Presumed Portrait of George Washington's Cook"
by Gilbert Stuart (Museo Thyssen-Bornemisza, Spain)