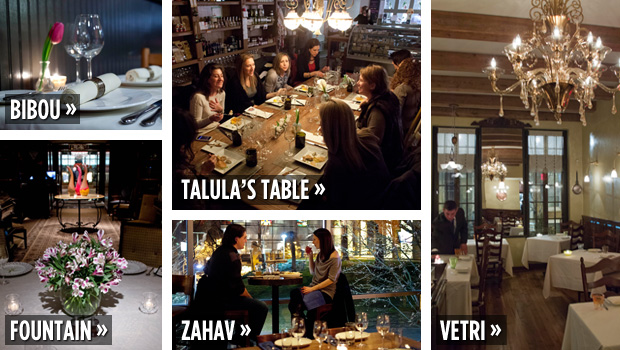 Going Back to the Bells
Inquirer critic Craig LaBan revisits the region's top restaurants to see which deserve his top four-bell rating.
Fantasy 4-Bell Recipes
Cook like the pros, at home. Article
Craig LaBan's Dream Meal
More Favorite Restaurants
The region's top dining experiences, in assorted categories. Article
Presenting: The new 4 Bell restaurants
Craig LaBan Searing-hot restaurant ambition. It's the nightly special that never runs low in Philadelphia's dynamic dining scene. But who is reaching for perfection and serving it with the sublime taste of four-bell glory?
Bibou
Pierre Calmels, working with his wife, Charlotte, in a South Philadelphia BYOB, is the rare chef with the polish and feeling to make oldies seem fresh and new.
Fountain
Chef William DiStefano cooks like it's 2012 at the grand, timeless main room at the Four Seasons — and proving a talent worth wider notice.
Talula's Table
Why does every dinner I savor at this Kennett Square BYOB seem more inspired than the last? The real answer is Aimee Olexy.
Vetri
Marc Vetri, cooking from a Center City brownstone, remains a singular leader for his generation and why his namesake restaurant remains our very best.
Zahav
Under chef Michael Solomonov, who can be found in front of his wood-fired taboon oven, this Society Hill Israeli is living up to its name. It translates to "gold."
Another Course
Four-Bell Recipes
Starting Sunday, Feb. 12: Chefs from Philadelphia's top four-bell kitchens share some of their finest recipes - all scaled for home cooks. Philly.com exclusive!
Talking About the Bells
A recap of Craig LaBan's online chat is here.
3-Bell Excellence
Now 3 Bells (Was 4)
Now 2 Bells (Was 4)
Now 2 Bells (Was 3)