SO, WHAT'S IN a cupcake?
Apparently a lot more than flour, eggs and sugar.
A recent post on a parents listserv urgently requested cupcake- store ratings to help plan a children's birthday party, while food bloggers discuss the trend's demise with as much zeal as Flyers fans second-guess who Laviolette puts in the cage.
If cupcakes do fall from foodie grace, Philadelphia's economy may take a huge hit. Seriously, even though it has been years since absurdly thin Sarah Jessica Parker helped kick off the craze by appearing to eat Magnolia Bakery's small cake confection on an episode of "Sex in the City," cupcake outlets continue to sprout up like meringue mushrooms in the City of Brotherly Love.
Later this month, the popular Brown Betty is expanding its flagship Liberties Walk store to a new location on Second Street that will be triple the size of the original.
Not to mention that there are cupcake trucks leaving crumbs on our carbon footprint. Buttercream and Call Me Cupcake have struggled with L&I and had their trucks impounded, giving new meaning to definition of pound cake. Sweetbox Cupcakes rolled out in April and appears to be set to park at Love Park.
It's a Cupcake! markets a savory version. The last time I ate a handheld savory food it was called an hors d'oeuvre.
In an attempt to bring clarity to the cupcake situation before we have to deal with the arrival of Federal Donuts, which will take us from sugar overload to fried, I thought I would parse out the state of the cupcake.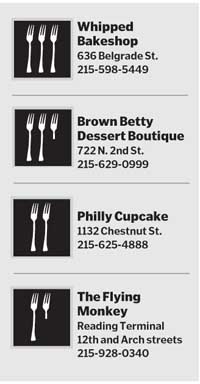 An array of vendors offering the most distinct styles of cupcakes were selected, and a tasting panel of four eager women and two coerced men was selected.
There does appear to be a great gender divide in the appreciation of baked batter topped with creamy sugar.
I once worked for a small magazine that had one male employee among several women. He was perpetually puzzled by the ritual of staffers' bringing in a chocolate treat (often cupcakes) to share.
"You all just go into the coffee room and get giddy," he said, shaking his head.
On a recent Friday visit to Brown Betty Petite's Liberty Place location in Center City, the line was out the door - all women - and the giddy factor was palpably high. Owners Norrinda Brown Hayat and Linda Hinton Brown have the best backstory: Their cupcakes are Grandma Betty's recipe, and the names of the varieties are a nod to family and friends.
A Brown Betty cupcake is supersized, almost like a muffin, and easily shared. It received high marks on appearance, although the paper cups adhered to the cake more than the other samples.
Hattie Don't Play ($3), a chocolate cake with chocolate buttercream frosting, rated high in its simple appearance but could have had a denser chocolate flavor. Betty's Only for Eliza, a sweet-potato pound cake ($3), garnered higher marks with its pie flavorings and spiced vanilla buttercream frosting.
But Zoe Lukas' Fishtown store, Whipped Bakeshop, came out with the highest rating overall. The chocolate fudge cupcake ($2.75) offered plenty of chocolate flavor with a dense crumb in the cake and a lightly whipped, Swiss meringue buttercream.
If you are going for decadent, try one of the filled cupcakes ($3.50). The raspberry truffle was a hit - fudge-y chocolate cake stuffed with an ultrarich chocolate ganache and a raspberry frosting.
What put Whipped on top was that these cakes offered a lingering, rich buttery finish on both the cake and frosting.
Philly Cupcake, at 12th and Chestnut, pulls out all the stops, including the shop decor. Owner John Columbo and partner Michael Lewis took their background as vintage store owners and created a fanciful shop that almost feels as though you are inside a cupcake.
Tasters enjoyed the light chocolate cake but felt their version of Swiss meringue frosting was too sweet, even though this style of frosting tends to use less sugar. Perhaps the overwhelming ratio of frosting to cupcake upped the sweet factor.
And while the store identifies itself with fantasy and whimsy, its hummingbird creation didn't fly. Tasters commented that the cake seemed like bananas and granola mashed together.
It was noted, however, that Philly Cupcake would probably be the most kid-friendly. Particularly in light of its offering Bassetts Ice Cream cupcake cones and an ice cream sandwich ($5.95).
Most disappointing was the Flying Monkey Patisserie in Reading Terminal Market. Owner Elizabeth Halen garnered national fame with her Pumpple Cake (pie baked in cake) but seemingly failed to keep the cupcake standard when she took over the bakery last October.
The chocolate cupcake ($2.50) rated high on presentation, especially the paper cup. Sadly, what was in it didn't measure up. The cake and the frosting were somewhat flavorless. The more exotic lavender cupcake ($2.50) just didn't work, with several people commenting that it smelled like hand cream.
Given that a single cupcake can set you back around $3 or more, these little indulgences can, depending on how you parse them out, cost close to 50 cents a bite.
But you're in Philly, so there's an affordable option.
My tasters recommend a Tastykake Butterscotch Krimpet ($1.50) with a glass of milk. No need for colorful trucks or fantasy stores. You can grab a pack of Krimpets at a corner store or a vending machine. The mere crinkle of cellophane can set off a craving for this lightly textured sponge cake with the perfect ratio of frosting and just a hint of butterscotch.
It's our iconic cake. And we give it three forks.
Lari Robling has been expressing her opinion about food ever since her first bite (according to her mother). She has produced multimedia pieces for WHYY and is the author of "Endangered Recipes." Reach her at larirob@gmail.com.