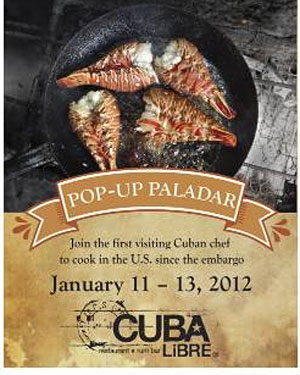 In Cuba, a paladar is a restaurant often set inside a chef's own home.

Chef Guillermo Pernot at Cuba Libre in Old City has traveled to Cuba and is bringing back hot Havana chefs for a dinner series that is billed as Cuban chefs' first U.S. appearances since Fidel Castro took power.

On Wednesday, January 11 through Friday, January 13, Chef Pernot will co-host the first Pop-up Paladar with Chef Luis Alberto Alfonso Perez of El Gijonés, Bar Oviedo, La Terraza and Asturias, his four paladares all located in the Asturian Federation of Cuba building on Paseo del Prado in Havana.
And philly.com/Food readers have a seat at the table for either the 6 or 8:30 p.m. seating at the Jan. 11 dinner. We're giving away dinner for two (retail value: $39 per person, excluding beverages, tax and gratuity).
The four-course menu, a collaborative creative effort of the two chefs, will feature: Crudo de Langosta, lobster salad, pineapple sorbet with truffle oil-infused black sesame seeds; Ravioles, eggplant-wrapped ravioli with lamb ropa vieja filling and a hierba buena infusion; Jabalí, baby wild boar rib chop with sour orange-canela compote and yuca tamal; and Flan de Queso, Pategras cheese flan with guaya coulis and confitted garlic.
Simply enter by Jan. 3, and we'll announce the winner Jan. 4. Details about the dinners are here.

* = Required Fields