V for Veg Top 10 Vegan Cookbooks for the 2013 holiday season

Top vegan-oriented cookbooks published in the second half of 2013.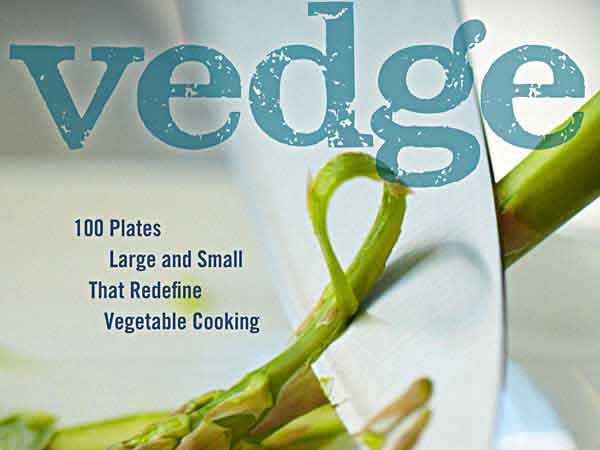 A Cut Above:
Vedge: 100 Plates Large and Small That Redefine Vegetable Cooking
Rich Landau and Kate Jacoby (The Experiment)
Redefine they have, to excellent effect. Vegan cookbook event of the year? Around here it sure is! We have to put this cookbook version of Philly's world-famous vegan destination in a class by itself.
---

1 Vegan Chocolate: Unapologetically Luscious and Decadent Dairy-Free Desserts
Fran Costigan (Running Press)
Nobody knows chocolate, or confections in general, like vegan desserts diva Fran Costigan.

2 The 30-minute Vegan: Soup's On!
Mark Reinfeld (Da Capo)
No more complaining about inconvenience with this batch of 30-minute soups!

3 Becoming Vegan: Express Edition
Brenda Davis, RD and Vesanto Melina MS, RD
It does have recipes, but it's so much more. Anyone into veganism or food should own.
4 Extraordinary Vegan
Alan Roettinger (Book Publishing Company)
For a more adventurous cook, Roettinger offers out-of-the-way vegan dishes with special flair.
5 Pies and Tarts with Heart
Dynise Balcavage (Quarry Books)
Balcavage covers pies and related creations for all seasons, but especially holiday and festive occasions.
6 The Cheesy Vegan
John Schlimm (Da Capo)
The author of The Tipsy Vegan delves into cheese making, while still taking an occasional nip.


7 One-Dish Vegan
Robin Robertson (Harvard Commons Press)
Always tasty recipes, this time for those with limited cookware and dinnerware.

8 Happy Herbivore: Light & Lean
Lindsay S. Nixon (BenBella)
Lindsay Nixon makes eating healthy not only delicious, but fun and affordable.

9 Vegan Pizza
Julie Hasson (Andrews McMeel)
Yes, it does exist, and Hasson walks you through a multitude of ways to make it work. Pizza time!
10 Chef Del's Better than Vegan
Del Sroufe (BenBella)
Forks Over Knives chef who lost hundreds of pounds gives good healthy food a savory spin.
-- Vance Lehmkuhl