Fall-flavored recipes from 'Pies and Tarts with Heart'
Here are two recipes from 'Pies and Tarts with Heart' by Dynise Balcavage (Quarry Books) that will get you into an autumnal mood as thoroughly as a pumpkin spice latte, if not more so.
Chocolate-Bourbon Pecan Pie
Indulge all your vices—sugar, booze, and chocolate—in one handy pie. Infused with caramelly bourbon and dark chocolate, this recipe takes the already-decadent pecan pie to an entirely new level of hedonism—but if that's not enough for you, by all means, top it with Coconut Whipped Topping, nondairy vanilla ice cream, or vegan sour cream. Jack Daniels would definitely approve.
Makes one 9-inch (23 cm) pie
1 Basic Single-Crust Pastry or Gluten-Free Single-Crust Pastry
1 cup (100 g) pecan halves or pieces
¼ cup (60 g) vegan cream cheese
2 tablespoons (28 g) margarine
2 tablespoons (28 g) vegetable shortening
2 tablespoons (16 g) cornstarch
½ cup (112 g) packed brown sugar
½ cup (120 ml) maple syrup
½ cup (120 ml) dark agave nectar
1 teaspoon vanilla extract
3 tablespoons (45 ml) bourbon
¼ teaspoon salt
2 teaspoons orange zest (optional)
1 cup (175 g) dark or bittersweet chocolate chips
Preheat the oven to 400°F (200°C, or gas mark 6).
Rollout the pie crust and arrange in the pan. Place aluminum foil over the bottom of the pie crust, top with pie weights, and blind bake for about 10 minutes. Let cool slightly, then remove the weights.
Meanwhile, spread the pecans on a cookie sheet and toast them on another shelf in the oven while the crust is blind baking. Be careful not to burn; 5 to 10 minutes should suffice. Your nose should tell you when the nuts are done—but check after 5 minutes. Lower the oven temperature to 350°F (180°C, or gas mark 4).
Meanwhile, assemble the filling. Whiz the cream cheese, margarine, shortening, cornstarch, brown sugar, maple syrup, agave, vanilla, bourbon, salt, and orange zest in the food processor until smooth.
Pour the chocolate chips into the pie shell, followed by the nuts, and then pour the filling over the top. Don't overfill. (Any leftovers make a great smoothie sweetener, coffee syrup, or flavored syrup for pancakes.)
Put a pie guard or foil over the edges of the crust and bake for 40 to 45 minutes, or until the filling is bubbly. Remove the foil or pie guard immediately. Let cool at room temperature for an hour, then place in the refrigerator overnight before slicing.
Variations
Substitute brandy, whiskey, cognac, Armagnac, or rum for the bourbon.
---
Raw Baklava-Crusted Apple Tart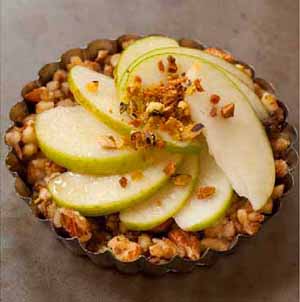 Make this one for your sweeties with sweet tooths … er … sweet teeth? The base of this tart is inspired by the flavors of Baklava, the famously sinful Greek/Middle Eastern pastry. It's topped with a gorgeous concentric circle of sweet-tart apples, which complement all the flavorings used in baklava, and drenched with lemon-cinnamon flavored Agave syrup.
Makes three 4-inch (10 cm) tarts or 6 mini tarts
For Syrup:
½ cup (120 ml) agave nectar
½ teaspoon cinnamon
1 cinnamon stick
1 tablespoon (15 ml) lemon juice
For Crust:
½ cup (70 g) raw pistachios, walnuts, and/or almonds
¾ teaspoon cinnamon
1/8 teaspoon ground cloves
Pinch of sea salt
3 to 4 tablespoons (45 to 60 ml) raw agave nectar
½ to 2 tablespoons (8 to 30 ml) lemon juice
2 organic apples (Granny Smith,
McIntosh, Honeycrisp, or Braeburn)
Lemon juice, to prevent browning
Cinnamon, for dusting
(For a 9-inch (23 cm) pie, double the recipe)
To make the syrup: Mix everything together in a large bowl or Mason jar. Ideally you should make this the night before, but let it sit for at least 4 hours before serving so the flavors have time to get to know each other.
To make the crust: Whiz together the nuts, cinnamon, cloves, salt, and agave in a food processor. (If you have one, a mini food processor is ideal for this task.) Chunks of nuts should be visible—don't overprocess. Add the lemon juice, ½ tablespoon at a time, and whiz until the nut mixture sticks together. Press evenly into tart pans.
Slice the apples as thinly as possible, just before preparing the tarts (a mandoline is ideal for this job) and sprinkle with lemon juice to prevent browning. Arrange the slices in concentric circles atop the raw crusts.
Pile about 1 teaspoon of the fruit garnish in the center. Drizzle with the prepared syrup and dust with extra cinnamon. Serve immediately.
Variation
Substitute a ripe pear or an Asian pear for the apple.