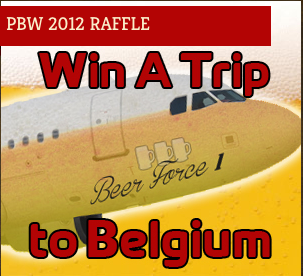 On Saturday, Jan. 12 from 1 p.m. to 3 p.m. Philly Beer Week will be hosting its third annual Win a Trip to Belgium Raffle at Field House (1150 Filbert St. next to Reading Terminal Market).
Enter the raffle for you and your favorite local brew to win the March 2013 trip to Belgium to partner with Bernard Leboucq and Yvan De Baets of Brasserie de la Senne in crafting the 2013 Philly Beer Week Collaborative Brew.
Raffle tickets are $5 per ticket or 5 for $20 and the drawing will be held at 2:30 p.m. The selected winner and brewer will receive airline tickets and hotel rooms for the two-night trip.
The Field House will be serving its new menu of beer-friendly pub fare, along with their 40 local draughts, many from participating breweries. Note that the brewery must be present at the event in order to be selected.
This year's participating breweries and representatives are:
Boxcar Brewing - Jason Kohser
Dock Street - Scott Morrison
Evil Genius - Mark Braunwarth
Flying Fish - Casey Hughes
Free Will - John Stemler
Manayunk - Doug Marchakitus
Neshaminy Creek - Jeremy Myers
Nodding Head - Gordon Grubb
Philadelphia Brewing - Ben Schamberg
River Horse Brewing - Chris Rakow
Round Guys - Scott Rudich
Shawnee Craft - Chris DeGasperis
Troegs - Andrew Dickson
Victory - Kevin McGovern
Weyerbacher - Chris Wilson
Yards - Tom Kehoe
Philly Beer Week 2013 will be held from Friday, May 31 until Sunday, June 9. For more event information, click here.