Saturday, Nov. 17 is opening night at District 611 in Riverton, N.J. - about 5 minutes from the Tacony-Palmyra Bridge and an easy 20 from Center City up 95 and over the Betsy. If my walk-through the other day is any indication, you're going to hear a lot about this modest-priced, rustic BYOB with the wood-burning pizza oven and polished concrete floor, next to a CVS. Operators are three dream-chasing veterans of the Starr Restaurant empire, and they're doing a cool menu of Neapolitan pizzas and assorted yummies like steak frites, big salads, and rock shrimp tempura, washed down with New Hope fountain soda. It's open for dinner only for now.
District 611, 710 Broad St., Riverton, 856-829-1552.
And speaking of Jersey restaurants with numbers in their names...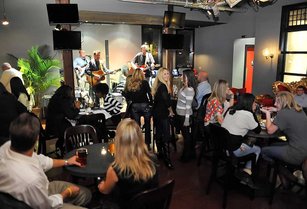 Tavro Thirteen, which opened last month in Swedesboro, N.J., is fine dining on one side, but the other side is its let-your-hair-down counterpoint, with a stage hosting live acts (like Engardo Cintron, a Latin trio, tonight) and a bar menu from Terence Feury that includes sweetbread-stuffed chicken wings and warm pretzels.
Tavro Thirteen, 1301 Kings Highway, Swedesboro, 856-467-8413.
Try one or more of Drew Lazor's six favorite bar snacks. Yes, bacon-grease popcorn at Khyber Pass Pub is one of them. And just so you know he likes his veggies, he lists Vedge's Korean seitan tacos. Oh, wait. Pig-ear lettuce wraps at The Industry... Link is here.
Make your Thanksgiving res now - or just wait till the last minute. Our list of restos open on Thanksgiving Day is growing. See it here. If you know of a place that's open and not on the list, ask the owner to fill out our form here. Takes four minutes. If you're planning to cook, try our seven fave Thanksgiving recipes (here), including the best stuffing I have ever had. Also in there is Craig LaBan's instructions for a charcoal-grilled turkey that will wow everyone.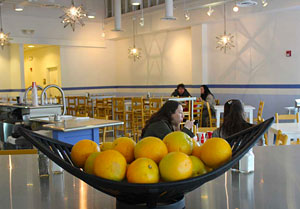 Willow Grove's enviable complement of Southwest/Mex chains now includes the region's first Taqueria del Sol - a franchiser that combines the wide-open, fast-food atmosphere of, say, a nearby Chipotle with the bar component of, say, the nearby Mad Mex. Try the brisket (in tacos or an enchilada) with turnip greens and habanero slaw on the side, and you might forget that this was a Baja Fresh location.
Taqueria del Sol, 4001 Welsh Rd., Willow Grove, 215-657-4500
Looking ahead: Stretch those belly muscles Wednesday at Burger Palooza - an all-you-can-eat orgy of food truck fare at Yards Brewing Co. Info is here.