How about some variations on the classics?
The Vault, the fine new brewpub in Yardley that specializes in flatbreads that complement the beers, has spun the classic BLT. The newest from chef Anna Cain has house-made garlic hummus topped with wood-fired bacon, campari tomatoes, bleu cheese, shredded mozzarella, and finished with a fresh spring mix ($10).
The Vault - owned by brothers John and James Cain - occupies the former Bank of America building at 10 S. Main St. (267-573-4291). Former homebrewer Mark Thomas mans the vats.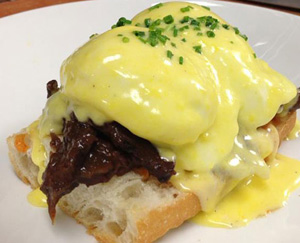 And because one egg is never an oeuf: The Philly cheesesteak has been folded, spindled, even mutilated over the years by well-meaning chefs. Samuel Noh, chef at Rouge, has now Benedicted it. I submit to you his new brunch dish: an eggs Benedict with elements of Ninth and Passyunk. The cheesesteak Benedict debuts on Rouge's menu this weekend. Noh uses hanger steak. caramelized onion, house-made truffled "Whiz" and two poached eggs, and serves it on a toasted baguette with pommes frites for $16. Yes, you did just read that correctly: "truffled 'Whiz'" - if ever a Whiz there was.
Rouge, 205 S. 18th St., 215-732-6622.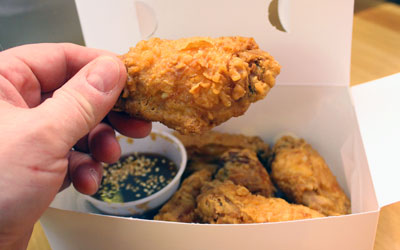 Chickening out. More than a few eyebrows soared skyward a couple of months ago when Jack Chen and Ben Wang opened a chicken-focused quick-serve in a storefront across from Thomas Jefferson University Hospital by the name of Chick-a-Lic. "Yes, we heard from a lot of people," said Wang - who with Chen also owns Spice 28 on Chestnut Street. Though the awning still bears that name, the shop is now known as Chick-a-licious. Chen and Wang serve chicken rice bowls, chicken salads, chicken wraps, and even chicken noodle soup. Specialty of the house is the double-fried chicken popularly known as Korean fried chicken. It may not quite have the crackling crunch of the birds from gold standard Cafe Soho or the slight zing of those from Rice & Mix, but you cannot beat Chick-a-licious' sauce selection: sweet chili, soy garlic, honey barbecue, honey mustard, spicy barbecue, hot and spicy, wasabi aioli, mild or spicy Buffalo, or ranch. If you get 'em to go, the sauce comes on the side. Just before you eat, you open the box, dump the sauce over the chicken, close the box, shake gently, wait 30 seconds for the sauce to sop in, and dig in. Birds (such as the six-piece with soy garlic you see here, $7) all come with a side, such as coleslaw, corn, fries, or rice.
Chick-a-licious, 138 S. 11th St., 215-925-8881. (Inexplicably closed Saturdays.)
Great deal in South Philly. We're a week from Center City District Restaurant Week(s), so the prix-fixe deals will be plentiful. But first, let's go south, to South Philly. At Kris - Kristian Leuzzi's spot at 11th and Federal Streets - chef Gregory Dooner is putting out $39 four-course specials. Unlike the typical South Philly Italian experience, portions here are just enough. Start with an app like the venison carpaccio or antipasto, then segue into what is for my money some of the best pasta around (the lamb bolognese over gnocchi, maybe), pop over into entree land for seafood stew or maybe ribeye, and wrap with dessert. Everyone at the table has to order it. Full-size portions are offered a la carte, if you want to go that way. Wine bottles are half-price Monday, Wednesday, Thursday, and Sunday.
Kris, 1100 Federal St., 215-468-0104. Closed Tuesdays.

Also on tap: Saturday, Jan. 12 is the Lemon Ball, benefiting Alex's Lemonade Stand Foundation, at the Downtown Marriott. (Info here.) ... Monday, Jan. 14 marks the Center City premiere of Penn's mobile Hub Bub Coffee in its brick-and-mortar quarters at 1717 Arch St. ... Dig into the grilled cheese and craft beer pairing in Wilmington, Del., on Tuesday, Jan. 15. (Info here.)